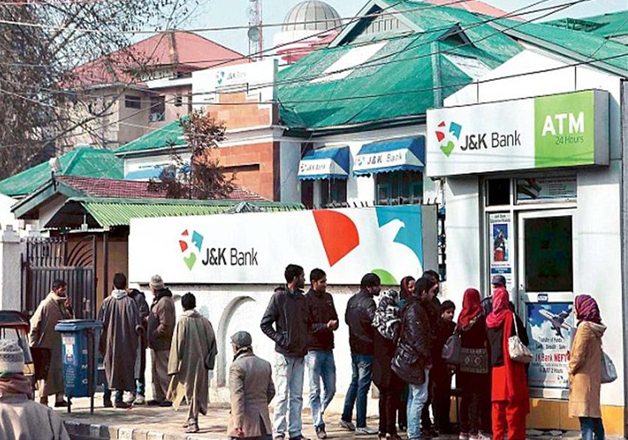 Some shops opened while passenger vehicles plied in some areas of Srinagar and other towns of Kashmir today where banks witnessed heavy rush of customers due to demonetisation of Rs 500 and Rs 1,000 notes. 
While rest of the country remains in a turmoil even a week after the demonetisation was announced, people in Valley have accepted the move without any panic.
"No common Kashmiri keeps large amounts of cash at home because of the disturbed situation. The salaried class gets monthly wages through bank accounts and they usual space withdrawals to suit daily needs," Elizabeth Maryam, who teaches economics in Kashmir University, said.
"The skilled and unskilled workers mostly earn as much as they spend on an average. Big industrialists and businessmen never keep large amounts of cash at home in a conflict area. That is the reason why the demonetisation has little impact in Kashmir," Maryam added.
According to Nazir Qazi, an officer of the local Jammu and Kashmir Bank, all the ATMs of the bank are fully stocked. 
"For the last eight days there has been no rush on either our branches or at our ATM outlets. Yes, people have been coming in for exchange of the demonetised currency notes or for deposit, but nobody was being hassled," Qazi said.
Muzaffar Ahmad, a college principal, said, "In a place where the protest shutdown has paralysed life for over four months, who would shoot up their blood pressure further over cash crunch?"
Meanwhile, the death toll in the ongoing unrest in Kashmir rose to 86 as an elderly man injured in security forces action against protestors two weeks ago succumbed at a hospital here.
Ghulam Mohammad Khan (70), who was hit by a tear smoke shell fired by security forces on protestors at Anchar locality of Soura on November 2, succumbed to injuries at a hospital this morning, a police official said.
Kashmir has been gripped by a wave of violence since the killing of Hizbul militant Burhan Wani on July 8 this year.