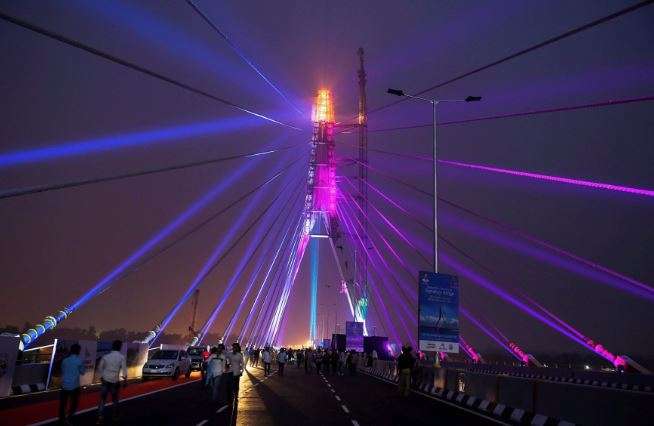 After missing many deadlines, the iconic and much-awaited Signature Bridge over the Yamuna was inaugurated on Sunday by Delhi Cheif Minister Arvind Kejriwal amid a face-off between Aam Aadmi Party (AAP) and Bharatiya Janata Party (BJP) workers at the event. High drama prevailed before the inauguration with Delhi BJP president Manoj Tiwari and scores of supporters staging a protest for allegedly not being invited to the inaugural event of the newly-built city landmark. BJP, however, said that AAP leader Amantullah Khan used abusive language and pushed Tiwari. The opening came after a clash between AAP and BJP workers at the site when Tiwari allegedly punched a policeman during the fracas before order was restored. During his speech, Kejriwal attacked BJP and Prime Minister Narendra Modi and questioned if the country needed bridges, schools and hospitals or temples and statues for progress. 
"Four days ago the 182 metre tallest statue of the world was unveiled and today this 154 metre high bridge is being inaugurated. The country has to decide if it needs statues and temples or bridges, schools and hospitals," Kejriwal said inaugurating the bridge. He said the thought of Signature bridge reminded him of the first Prime Minister of the country Jawahar Lal Nehru.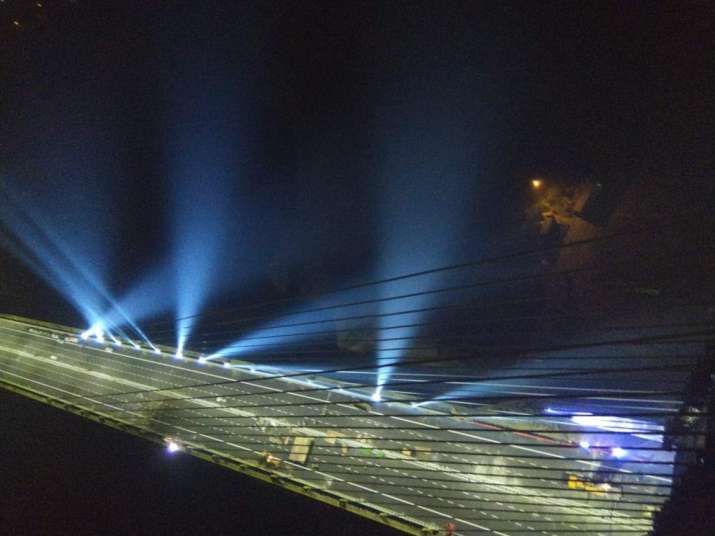 "If Nehru had chosen to build temples and statues instead of institutions like BHEL and SAIL, then the country would not have progressed. The country would languish in 15th century if temples and mosques are given preferences over science, technology and research," Kejriwal said.
Signature Bridge inauguration: Top 10 Points
1. The Signature Bridge is the first asymmetrical cable-stayed bridge in India and offers panoramic view of the city. 
2. Built over river Yamuna, Signature Bridge will reduce the travel time between north and northeast Delhi.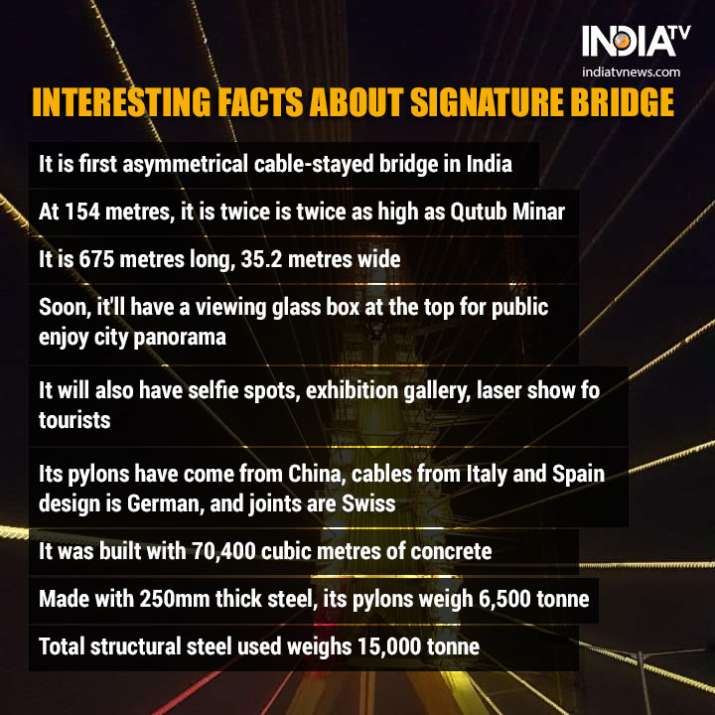 3. It took 14 years to build it, but the iconic Signature Bridge is finally ready for Delhi. The Signature Bridge's planned inauguration was to coincide with 2010 Commonwealth Games, but after a series of delays, it is now finally ready for public to travel and marvel. 
4. The bridge will have high glass box at the height of 154 metres (505 ft or 40-50 floors), which will act like an observation deck for the visitors, giving them a bird's-eye view of the city. The viewing deck is likely to be open to public by February. The viewing gallery in newly inaugurated Statue of Unity is at 153 metres. 
5. The visitors will be taken to the viewing deck in four elevators, which will be able to carry around 50 people at a time. The elevators area is likely to be operational in two months.
6. The 675-metre Signature Bridge will also have designated selfie spots for tourists to seal their memories.
7. The bridge, connecting Wazirabad across the river Yamuna, will take vehicular pressure off the existing Wazirabad bridge. It will also connect the Outer Ring Road on the western bank of the river with Wazirabad road on the eastern side.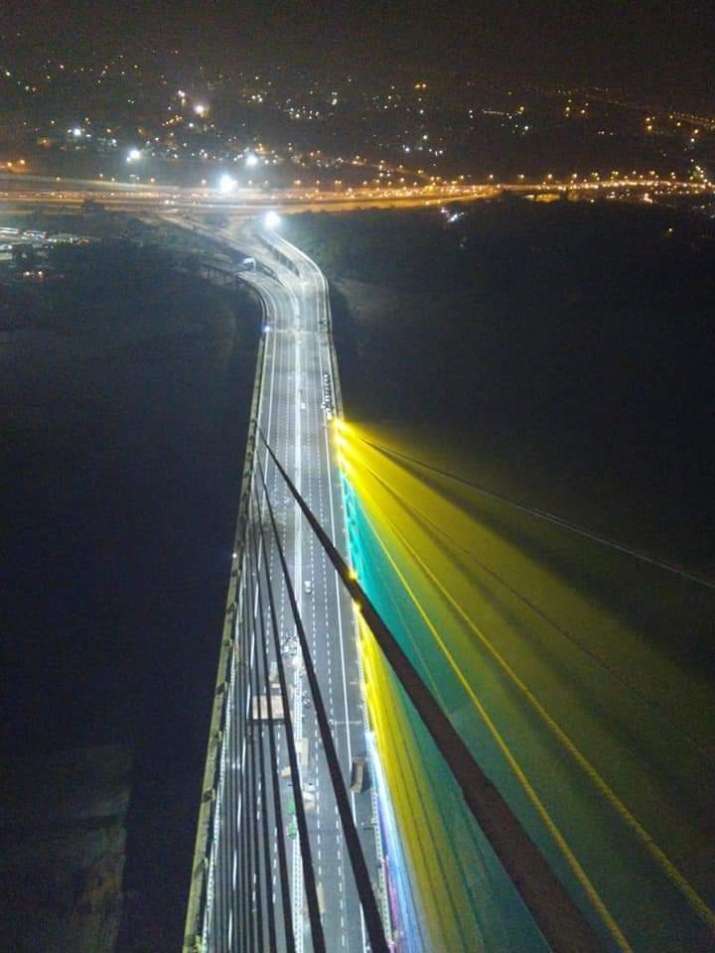 8. Its pylons have come from China, cables from Italy and Spain design is German, and joints are Swiss. 
9. It was built with 70,400 cubic metres of concrete. Made with 250mm thick steel, its pylons weight 6,500 tonne. 
10. Total structural steel used weighs 15,000 tonne.
AAP-BJP face-off before inauguration of Signature Bridge
Delhi BJP President Manoj Tiwari accused AAP legislator Amanatullah Khan and his party workers of manhandling him at the Signature Bridge inauguration site and described it as "unfortunate".
While some media reports accused Tiwari of punching a policeman, he denied the charge. 
Tiwari said he had gone to the event on the invitation of the Delhi government.
"I was listening to (Delhi Chief Minister) Arvind Kejriwal speech. I was standing near the inauguration venue and then I was pushed by Khan," Tiwari told the media. 
Delhi Police Eastern Range Joint Commissioner Ravindra Yadav said that there was slogan-shouting by BJP and AAP workers but police separated the groups.
"And the situation was handled very professionally by Delhi Police and not allowed to take an ugly turn," he said.
Yadav also said that policemen on duty "performed their task with utmost restraint and diligence and the main function was held smoothly without any disturbance". 
Before the scuffle broke out between AAP and BJP activists, Tiwari told the media: "I haven't come here to oppose it (inauguration of the bridge). I have come here with flowers to say thank you to Kejriwal. I also want to ask one question to him that why it took 15 years instead of three years (to complete the bridge), and why the price of the construction of the bridge went up to Rs 1,500 crore?"
WATCH VIDEO: Signature bridge inaugurated in Delhi amid AAP-BJP face-off