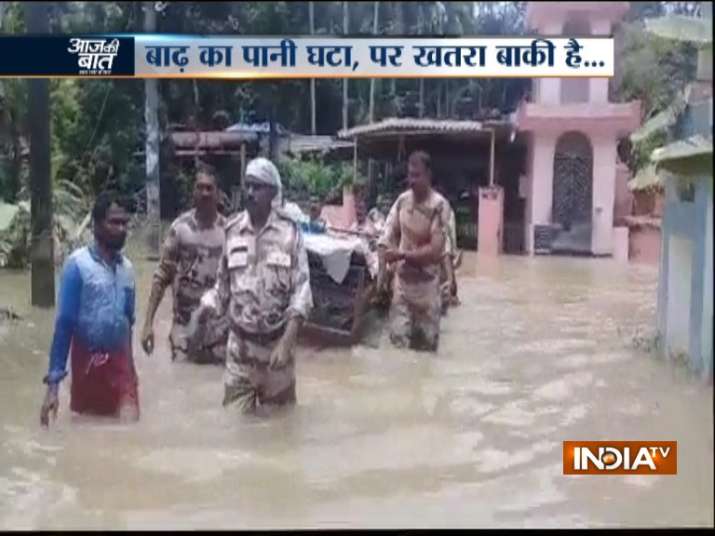 Rainfall has abated in the flood-ravaged Kerala over the past two days giving a sigh of relief of more than a million people battling hunger, epidemics in the wake of the state's worst deluge in almost a century. More than 300 people lost their lives in the two phases of the dreadful disaster, forcing the central government to declare the situation in the state as a 'severe calamity'. More than 10 lakh people are staying in 3274 relief camps across the state. 
Normal life in Maharashtra, Madhya Pradesh and Rajasthan were also thrown out of gear as torrential rains battered many areas in these states. Four deaths were reported from Mandsaur's Badwan village.
Kerala floods: Centre releases Rs 600 crore, waives off customs duty, GST on relief materials
The Centre on Tuesday released Rs 600 crore to flood-hit Kerala and decided to waive customs duty and GST on the relief materials being imported for the affected people in the state.
The announcement came following a meeting of the National Crisis Management Committee (NCMC), which met for the sixth consecutive day.
The central assistance of Rs 500 crore as announced by Prime Minister Narendra Modi and Rs 100 crore announced by Union Home Minister Rajnath Singh for flood affected Kerala has been released to the government of Kerala today, an official spokesperson said.
The central government has also decided to waive Customs Duty and the IGST on the relief materials being imported to aid the people in the flood-affected areas in Kerala.
The IGST refers to the Integrated Goods and Services Tax which is a part of GST under the concept of one nation one tax. It is charged on the goods and services supplied from one state to another. 
ALSO READ| Kerala flood: Centre releases Rs 600 crore, waives off customs duty, GST on relief materials 
Rail, road traffic resume 
Rail and road traffic services have been restored in most places. The train services in Kayankulam-Kottayam- Ernakulam and Palakkad-Shoranur-Kozhikkode sections have been resumed. Trivandrum- Ernakulam section was also connected by passenger special trains.
 
Aluva- Thrissur, Thrissur-Shoranur, Kayamkulam-Kottayam- Ernakulam Shoranur-Tirur, Shoranur- Palakkad routes, which suffered extensive damage during the floods, have been made operational once again.
Kerala floods: Centre unlikely to accept foreign donations
Hours after The United Arab Emirates (UAE) offered USD 100 million (around Rs 700 crore) as financial assistance for flood relief operation in Kerala, official sources said that the government is unlikely to accept any foreign financial aid for rescue operations. They said government has taken a considered decision to rely solely on domestic efforts to tide over the situation.
Sheikh Mohammed Bin Zayed Al Nahyan, the crown prince of Abu Dhabi, called up Prime Minister Modi and made the offer for assistance, Kerala Chief Minister Pinarayi Vijayan said in Thiruvananthapuram.
The government of Maldives has also decided to donate USD 50,000 (Rs 35 lakh) for flood affected people in Kerala.
It is understood that the UN is also offering some assistance for Kerala.
However, sources said India is unlikely to accept the assistance.
Kerala Floods: IAF rescues 663 people, airlifts 974 tonnes of relief material
The India Air Force (IAF) has so far rescued 663 people in flood-battered Kerala and airlifted 974 tonnes of relief material, it said in a statement.
Transport aircraft from all corners of the country have been flying day and night to ensure relief material is available in relief camps, it said.
"Women, children, elderly people and residents were winched from the rooftops of submerged houses to safety by IAF helicopters. Till date, IAF has rescued 663 people. IAF helicopters have also dropped food and water packets to the stranded people in the affected areas," the statement read.
It has airlifted 974 tonnes of relief material. Medical teams from the Southern Air Command and the Training Command have been deployed at various places to provide medical assistance, it said.
In addition, No 1 Rapid Action Medical Team (RAMT) has been flown from the Command Hospital Air Force Bengaluru to Thiruvanathapuram to assist in the relief efforts in Kerala.
The RAMT has the capability to provide both medical and surgical emergency medical care. Additionally, 119 doctors with 63 tonnes of medicine and equipment have been airlifted to Kochi and Thiruvanathapuram for further positioning at various medical camps, the statement added.
All the three armed forces and the Indian Coast Guard have deployed their resources in conducting rescue and relief operations in the state.
Baby food needed in Kerala camps, Minister tells industry
Union Minister for Food Processing Industries Harsimrat Kaur Badal held a meeting with representatives of food-processing industry and informed them about the immediate need for baby food in Kerala relief camps, official sources said on Tuesday.
Badal held a meeting with industry leaders on Monday to plan a strategy for assistance for the flood-affected people in Kerala. The meeting was attended by representatives from ITC, Coca-Cola, Pepsi, Hindustan Unilever, Dabur, MTR, Nestle, Britannia, and Marico.
"It is time to work as a cohesive unit and make a coordinated effort to help the people of Kerala, instead of separate entities making individual efforts," an official release quoted Badal as saying.
The contribution from the industry includes packaged drinking water, biscuits, buns, Maggi, packed juices, oats, chocolate bars, sanitary products, milk powder, and wheat products.
Goyal appeals railway staff to donate a day's salary for Kerala 
Railway Minister Piyush Goyal on Tuesday appealed to railway employees to donate one day's salary each towards the Prime Minister's relief fund for Kerala relief work.
"Railways stands in solidarity with the people of Kerala and urges its employees to contribute generously towards the Prime Minister's National Relief Fund by donating at least a day's salary towards relief efforts being carried out in the state," Goyal said in a tweet.
According to railway ministry officials, the move will help collect around Rs 200 crore since the Railways has around 12.5 lakh employees. 
Goyal also said that the railways has run as many as 61 special trains in Thiruvanathapuram and Palakkad divisions to connect stranded passengers.
"In particular, Thiruvananthapuram-Ernakulam section, which was not affected during the flood period, was connected by passenger Special Trains via Alleppey every three hours, helping all for the movement of people, rescue and relief team," Goyal said. 
He also said that three lakh Rail Neer Bottles from IRCTC (Indian Rail Catering and Tourism Corporation) plants in Southern Railway have been dispatched to the flood-ravaged state, while another one lakh bottles are getting ready to be delivered. 
The official said that railway officials of the Southern Railway zone have already donated Rs 65 lakh to the Chief Minister's Relief Fund.
Following the devastating floods, over one million people are now sheltered in 3,274 relief camps in Kerala. The death toll since the monsoon rains began in the state on May 29 is around 370.
Sex workers donate Rs 21,000 for Kerala flood victims
Sex workers in Maharashtra's Ahmednagar district have donated Rs 21,000 for Kerala flood victims and they will be raising another Rs 1 lakh by the end of this month.
A group of sex workers presented a cheque of Rs 21,000 drawn in favour of the Prime Minister's Relief Fund for Kerala flood victims to Resident Deputy Collector Prashant Patil of Ahmednagar yesterday, said a functionary of an NGO working for them.
Dipak Buram of the city-based NGO Snehalaya said sex workers will raise another Rs 1 lakh by the month-end for Kerala flood victims.
Insurance claims likely to be upwards of Rs 1,000 crore
Insurance companies expect claims in flood ravaged Kerala to cross Rs 1,000 crore as the government declares the deluge as 'calamity of severe nature'.
Assessment of claims will take place with situation moving to normal, a senior official of an insurance firm said, adding clear picture will emerge in the next 4-5 days when claims are received.
Given the magnitude, preliminary assessment points that claims for car, home and industry will be upwards Rs 1,000 crore, the official said.
 Kerala seeks Rs 2,600 cr special package from the Centre
Keralaon Tuesday sought a Rs 2,600 crore special package from the Centre even as the state struggled to find its feet after the devastating deluge that left 223 dead in a fortnight and forced over 10 lakh people out of their homes.
Chief Minister Pinarayi Vijayan chaired a meeting of the state cabinet, which decided to seek a special package from the Centre under the centrally-sponsored schemes including the latter's flagship rural employment programme MNREGS.
Over 24,000 people rescued in Kerala: NDRF
Over 24,000 people have been evacuated till now from the flood affected regions of Kerala till now even as 41 NDRF teams are still undertaking relief and rescue operations in the state, a force spokesperson said.  Flood waters were receding in most of the affected areas and there are no alerts for heavy rainfall for the next few days.
"The force has rescued 535 people and evacuated 24,616 marooned people to safer places. 119 animals were also evacuated and pre-hospital treatment was provided to 4,908 people till now," he said.
At least 41 teams of the federal disaster contingency force are still deployed in Kerala to assist the state administration in rescue, relief and rehabilitation work and to respond in case of any eventuality, the spokesperson said. A National Disaster Response Force team has about 35-40 personnel.
Torrential rain batters Rajasthan, Madhya Pradesh, Maharashtra
Heavy rains wreaked havoc in many areas in Rajasthan, Madhya Pradesh and Maharashtra on Tuesday. At least four people have died in torrential downpour in Madhya Pradesh's Mandsaur. The four people were travelling in a car before falling into a drain due to incessant rains.  Many people reached the accident spot and tried to pull the car out of the drain with the rope but it was late. Instances of water logging were reported from Bhopal. Many homes have been inundated by water with people relying on buckets to drain out excess water. Roads in the state capital have also being marooned by heavy rainfall.
Incessant rains have thrown normal life out of gear in Rajasthan. Rains lashed in Tonk district for continuous three hours.
Maharashtra also withessed heavy downpour on Tuesday. A major tragedy was averted in Gadchiroli when water entered a bus travelling from Hyderabad to Gadchiroli carrying more than twenty five passengers. However, all passengers on board were rescued by tying rope to the rear window of the bus.
WATCH VIDEO: