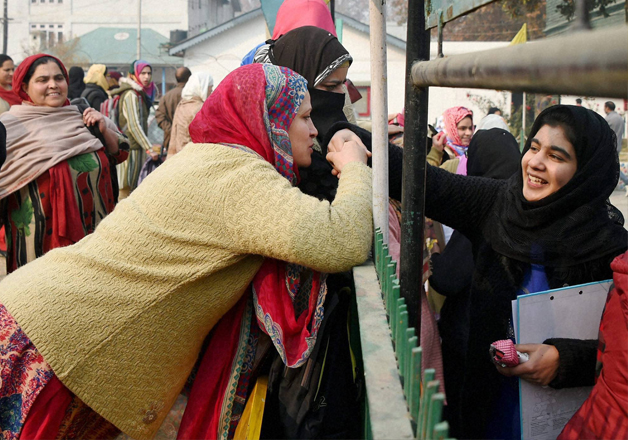 The city along with rest of Kashmir was buzzing with activity today with offices, shops and other business establishments opening in the Valley which saw return of normalcy after 133 days of shutdown.
Shops, offices, business establishments and fuel stations opened for a full day for the first time since the unrest began. While some had started opening earlier defying the separatists, others did business few hours on some days of the week whenever relaxation in the strike was announced. 
The situation has been by and large peaceful over the last few weeks in the Valley, which had been hit by clashes between violent protesters and security forces following the killing of Hizbul Mujahideen militant Burhan Wani in an encounter on July 8. The unrest had left 86 people dead and many others, including 5,000 security personnel, injured. 
Shoppers thronged Srinagar markets in large numbers, many buses and other public vehicles started plying early in the morning as people came out to attend their offices, open their shops and visit banks to withdraw cash.
Authorities did not impose restrictions anywhere on Saturday to facilitate free movement of people and traffic.
Many places in Srinagar and other district headquarters in the Valley witnessed traffic jams as people came out in large numbers to go about their daily chores or simply to have a feel of normalcy.
Muhammad Maqbool, 42, an electronics appliance store owner in Lal Chowk, is just happy to be at his shop during normal working hours, hoping to stay open till midnight.
"I don't want to talk about my losses because that nobody is going to make good for me. Yet, the feeling that I have opened my shop first time during day hours after so long is great. Today is different. Everything is just normal," Maqbool said.
Some distance away, Ramzan Sheikh, 54, a shoeshine, said that he made Rs 80 -- his "first earning" after all these months of violence. 
"I had four customers. Each one of them gave me Rs 20 for polishing shoes," Sheikh said.
Officials said that attendance in government offices, banks and post offices was almost full for the first time since the unrest, which left nearly 100 persons dead, started a day after Hizbul Mujahideen militants was killed.
Also students appearing for the ongoing 10th and 12th class annual exams used public transport for the first time to reach the examination centres.
The separatists have been issuing weekly protest programmes. They had for the first time announced a two-day relaxation in the strike beginning Saturday.