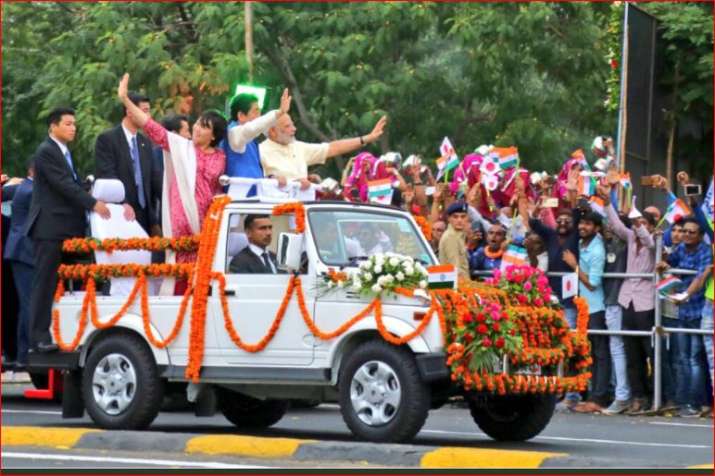 Japanese Prime Minister Shinzo Abe, who arrived in Ahmedabad Wednesday on his two-day visit to India, will hold talks with Indian Prime Minister Narendra Modi as part of the 12th India-Japan annual Summit in Gujarat capital Gandhinagar on Thursday. 
The two leaders are likely to discuss ways to enhance "multifaceted" relations between the two countries and carry forward their special strategic and global partnership during their discussion.
This year's India-Japan summit becomes significant as it comes amid rising tension in the Far East after North Korea tested a hydrogen bomb, launched a ballistic missile over Japan, and the growing Chinese assertiveness in the South China Sea. 
Japan is one of only two countries with which India has such an annual summit mechanism, the other being Russia.
This will be the fourth annual summit between Modi and Abe and Mumbai-Ahmedabad Bullet Train project will be at the top of the agenda for talks. The discussion will also focus on trade, defence and infrastructure. 
Interestingly, the two leaders have met 10 times in the last three years, with the last being on the sidelines of the G20 Summit at Hamburg in July. Prime Minister Modi had visited Japan in November last year while Abe visited India in December 2015. 
Narendra Modi and Shinzo Abe will participate in the ground-breaking ceremony of the ambitious Rs 1.08 lakh crore ($17 billion) Ahmedabad-Mumbai high-speed rail project at the Western Railway Athletic Stadium near Sabarmati railway station on Thursday.
Japan International Cooperation Agency (JICA) and the Union Railway Ministry have already inked a Memorandum of Understanding for the 508-km corridor, with Japan to partially fund the entire project.
With capacity to accommodate 750 people, the bullet train is expected to reduce travel time between the two cities from seven to roughly three hours. The train project, which is expected to be commissioned by the year 2022, will have a dozen halts. A 21-km-long tunnel will be dug between Boisar and BKC in Mumbai, seven km of which will be under sea.
The two prime ministers will also attend the ground-breaking ceremony of the 'High-Speed Railway Training Institute' being set up in Vadodara through a video link. They will also take a tour of Dandi Kutir in Gandhinagar, which is India's largest museum showcasing the life and teachings of Mahatma Gandhi. 
The two countries are expected to sign multiple economic deals and launch projects, including a Suzuki car manufacturing plant at Hansalpur, about 170 km from Ahmedabad, through remote control. A parallel CEO conference has also been planned.
In a statement, the Ministry of External Affairs (MEA) said that Modi and Abe will review the recent progress in the multifaceted cooperation between India and Japan under the framework of their special strategic and global partnership and will set its future direction. 
Earlier on Wednesday, Japanese Prime Minister Shinzo Abe arrived in Ahmedabad on a two-day visit to India.  Abe was accorded a warm welcome by his Indian counterpart Narendra Modi who broke the protocol and personally received him at the Sardar Vallabhbhai Patel International airport with a warm hug.
Abe was presented a guard of honour at the airport, after which artistes performed the traditional Gujarati dance showcasing the state's rich cultural traditions.  A group of Buddhist monks were also present at the airport to welcome Abe and his wife.
The visiting dignitary was given a guard of honour while artists from different parts of the country performed a variety of programme in his honour.
After that, PM Modi, Shinzo Abe  and Japan's First Lady Akie Abe boarded an open jeep and proceeded from the airport to the historic Sabarmati Ashram with thousands of cheering people standing on both sides of the eight-and-half km route.
At the Ashram, Modi, Abe and his wife paid floral tributes to a portrait and a bust of Mahatma Gandhi. Modi also presented Abe a marble sculpture of Gandhi's famous three monkeys.
Prime Minister Narendra Modi and his Japanese counterpart Shinzo Abe, along with his wife Akie Abe, visited the Sidi Saiyyed Ki Jaali, a 16th century mosque in Ahmedabad, later in the day.
Japanese PM and his wife were received at the mosqueby Prime Minister Modi who took them on a tour of the World Heritage Site famous for its latticework windows.
The mosque was built in 1573 by the retinue of Ahemad Shah Bilal Jhajar Khan, a General in the army of the last Sultan Shams-ud-Din Muzaffar Shah III of the Gujarat Sultanate.
Prime Minister Narendra Modi hosted dinner for the visiting Japanese Prime Minister and his wife in the evening.