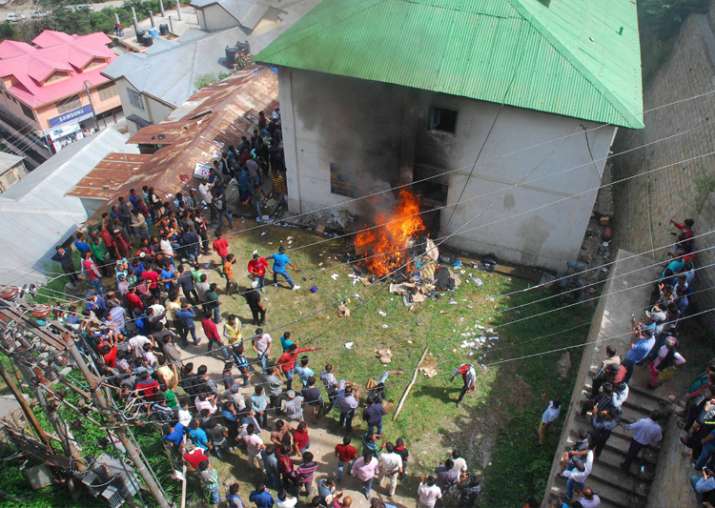 One of the six accused in the gangrape and murder of a Class X student in Shimla was allegedly killed by another accused in the Kotkhai Police Station late last night. The victim, identified as 29-year-old Nepali national Suraj Singh, was allegedly killed by the main accused in the case, Rajender Singh alias Raju, following a scuffle on Tuesday night.
Following the death, the entire staff of the Kotkhai Police Station has been shifted and recommendation for a judicial enquiry into the custodial death has been made. 
The death of the accused triggered violent clashes across the state that saw a mob burn down a police station and pelt stones at security personnel.
Meanwhile, additional police force has been rushed to Kotkhai to tackle the law and order situation as it is feared that it would add fuel to the public rage over the rape incident.  
"Preliminary reports suggest that Suraj was attacked by Raju. He caught hold of his sexual organs and kicked him on the floor. By the time the guard could reach them, Suraj was already dead. It's a clear case of custodial death which will be probed by judicial magistrate," IGP Zahur Zaidi was quoted by The Indian Express as saying. 
The murder reportedly took place around midnight when a guard heard some noise from inside the lockup. He immediately rushed inside the cell but couldn't save Suraj. 
Meanwhile, protests over the rape and murder of the schoolgirl continue in Shimla. Yesterday, people blocked the National highway for over five hours alleging the "police inaction". 
People of about 24 villages and members from various social organisations and political parties gathered at Gumma demanding justice for the victim and expediting the CBI probe. 
The protestors carrying placards raised slogans and demanded "exemplary" punishment for the perpetrators of the crime. 
The local residents alleged that the police investigations were not going in the right direction and expressed apprehensions that the evidence might be destroyed before CBI handles the probe.
A Class X student was raped and murdered at the Kotkhai area of Shimla district on July 4 after she took a lift in a vehicle driven by one of the accused Rajender. 
The body of the victim was recovered from the nearby Halila forest two days later. Six persons were arrested in connection with the case.