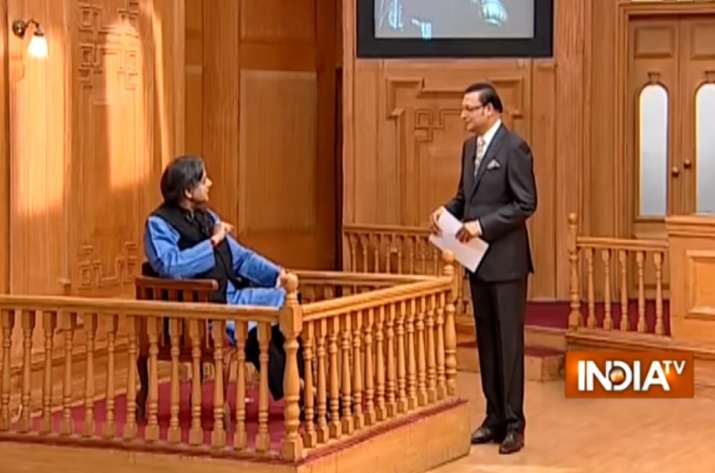 Rahul Gandhi hugged Prime Minister Narendra Modi in Parliament not because he supports him but because he knows how to do politics without hate, Congress leader Shashi Tharoor said on India TV's show Aap ki Adalat. 
"When Rahul Gandhi hugged him (Narendra Modi), he did not say that he supports them (BJP). We disagree completely. We are in Opposition. But can we not do politics without hate in our country? I mean there should be disagreement but not hate, you should disagree, debate, discuss and at the end hug each other," Tharoor said.
Also read | Nobody can stop Hindu Rashtra if BJP wins 2019 Lok Sabha polls, says Congress leader Shashi Tharoor in 'Aap Ki Adalat'
When asked what inspired Rahul to hug PM Modi in Parliament, Tharoor said, "Most probably he got the cue from Modi ji, because he hugs world leaders wherever he goes."
Giving his humorous take on the wink the leader said it was better than abusing each other and perhaps it was nothing more than two friends signaling each other that I have done what I wanted to do, he clarified. 
The Congress leader dismissed BJP leaders' statements that Rahul Gandhi should hug Shashi Tharoor the most because 'he was spreading hate'. "I am against hate, the politics of hate. I have been urging people to work together for years," Tharoor said in the televised interview. 
Also read | ​Shashi Tharoor in Aap Ki Adalat: 'Am a disciple of Swami Vivekananda since childhood, my 'Hindu Pakistan' remark was distorted'
Watch video | Shashi Tharoor in Aap ki Adalat: Congress leader's humorous response on Rahul Gandhi 's hug to PM
Watch full episode here: