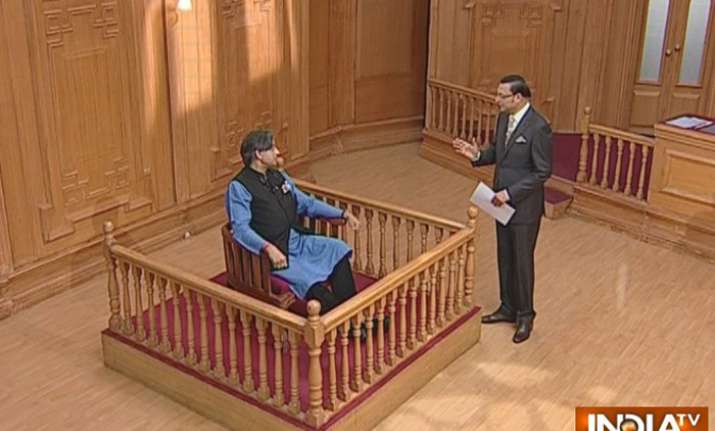 Senior Congress MP Shashi Tharoor has said that if the BJP won the Lok Sabha elections in 2019, nobody can stop it from amending the Constitution and declare India a 'Hindu Rashtra". 
He was replying to questions in Rajat Sharma's 'Aap Ki Adalat' show, which was telecast Saturday night on India TV. 
The MP from Thiruvananthapuram said, "BJP is now in power in 21 states, and in four to five years, it will surely get majority in Rajya Sabha. If the BJP wins the Lok Sabha elections in 2019, then the party will surely amend the Constitution to declare India a 'Hindu Rashtra'. 
"The day they will have majority in both Lok Sabha and Rajya Sabha, and in majority of the states, with the President, Vice-President and Prime Minister being part of RSS, who can stop the RSS' dream of declaring India a 'Hindu Rashtra'?" 
 
Tharoor said, "Those who have challenged the Idea of India over the years are in power today. They still talk of a Hindu Rashtra, and their ideological heroes are Veer Savarkar, M S Golwalkar and Deen Dayal Upadhyay, who had been advocating amending the Constitution. That is why, at the seminar in Thiruvananthapuram, I said, that if the present BJP leaders do not change their views, there is a risk of a Hindutva version of Pakistan taking place in India. That would be a Hindu Pakistan, but I know majority of Hindus do not subscribe to this."
The Congress leader said, "Prime Minister (Narendra) Modi says that our Constitution is a holy book for him, but at the same time, he is a follower of Deen Dayal Upadhyay, who had openly advocated amending the Constitution. This surely raises doubts in the minds of people. Not a single minister at the Centre has disowned Hindu Rashtra".
 
Asked by Rajat Sharma whether Congress President Rahul Gandhi will be able to stop BJP from retaining power in 2019, Tharoor replied: "It is not a question of Rahul Gandhi alone. There are many leaders in the opposition. There are 80 per cent Hindus in this country of 130 crore people, and a good majority of them are in favour of an inclusive Hinduism."
 
On lynching incidents, Shashi Tharoor alleged, "in the last 70 years, 97 per cent of lynching incidents, relating to cows, have taken place during the last four and a half years of BJP rule. This is an official government figure. Our Prime Minister has not broken his silence over the Alwar lynching incident in Rajasthan. After the Alwar incident, I had tweeted that 'it appears, in some places, it is safe to be a cow than a Muslim'."
 
When Rajat Sharma pointed out that the Congress party has disowned his "Hindu Pakistan" remark and the party spokesperson had cautioned leaders about making such remarks, Tharoor claimed that the entire Congress leadership in Kerala was behind him. "The former chief minister, the KPCC chief, the leader of the legislative party, all Congress leaders in my state have supported my view."
 
Tharoor, who is embroiled in a case involving the mysterious death of his wife Sunanda Pushkar, refused to reply to questions relating to her death, saying the matter was sub-judice, but looked emotional when he was asked how he faced the challenges after his wife's death in the last four and a half years. "It was very difficult. Satya meri shakti hai (Truth has been my power). I decided, why should I allow them to define me. I will be my own self and stay strong as I can."
 
He described Delhi Police's charge of "cruelty" against Sunanda Pushkar as "a complete lie". "It is a motivated prosecution. Let police prove in court if it is a case of suicide. ..Sunanda never said that I did anything against her, never. All these matters are before the court. I am contesting this in court. I want to clear myself before the court, hence I would refrain from speaking here."
 
Tharoor went on: "I have a clear conscience. I have not done anything wrong. ..I did not slap my two naughty boys even once, even though they sometimes deserved to..I saw my 80-year-old mother weeping on TV. In my entire life, I had promised myself never to go to any police station or court, but this happened."
 
Asked about BJP leader Subramanian Swamy's charge that Sunanda's death mystery was related to IPL, Tharoor shot back: "I do not want to speak about that person. I do not take him seriously. Were those people there, when she was alive?"
Watch: Nobody can stop Hindu Rashtra if BJP wins 2019 Lok Sabha polls, says Shashi Tharoor
​​
Watch: Here's what Shashi Tharoor said on Imran Khan
Watch: Congress leader's humorous response on Rahul Gandhi 's hug to PM
Congress MP Shashi Tharoor in Rajat Sharma's show "Aap Ki Adalat" was telecast Saturday night at 10 pm on India TV. The repeat telecasts will take place on Sunday 5th August at 10 am and 10 pm. 
Watch full episode here: