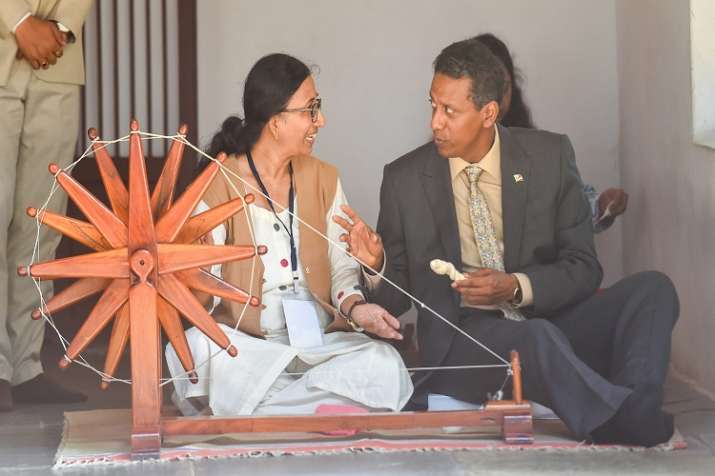 Seychelles President Danny Faure arrived in Ahmedabad on Friday for a six-day visit to India.
Earlier in the day, President Faure paid a visit to Sabarmati Ashram in Ahmedabad. He also recorded his message in the visitor's book that underlined the tenets of Gandhian ideals. "The principle of non-violence is what we need to teach the children of our world, and what was expressed by Gandhi many years ago remains relevant today," he wrote.
Faure would also visit the Gujarat Forensic Science University (GFSU) in Gandhinagar before leaving for Goa on Saturday afternoon.
From June 25-26, President Faure will visit New Delhi where he will meet President Ram Nath Kovind, Vice President Venkaiah Naidu, and Prime Minister Narendra Modi.
Faure's visit is being perceived as significant in the light of Seychelles Parliament recently blocking a joint defence project that involved both the Indian Ocean region countries cooperating to jointly develop infrastructure for a naval base on Seychelles' Assumption Islands.
Diplomatic relations between India and Seychelles which were established in 1976 hit rocky waters when India embarked upon a move to establish a joint naval base on the remote Assumption Island, a move that saw heavy opposition from various political quarters in Seychelles.
The Assumptiom Island deal was signed during PM Modi's Seychelles visit in 2015. India's primary objective for setting up a joint naval facility in Assumption was to ensure the safe passage of shipping vessels and containers in the southern Indian Ocean Region. Another important objective was to allow Indian Navy to monitor the Mozambique Channel and thwart any piracy attempts since much international trade transits through this region. But above all, India's main motive was to counter China's increasing presence abd securitisation of the Indian Ocean Region.The 2015 agreement was also supposed to help Seychelles patrol its 500,000-square-miles exclusive economic zone for illegal fishing, drug trafficking and piracy, and its ratification would have made India's relationship with Seychelles truly strategic.
The deal, however, could not be ratified by the Seychelles parliament during the term of the then president, James Michel. Following Faure's coming to power in late 2016, discussion with India on the agreement was reopened. Concerted efforts were made by both sides to iron out differences, and the re-negotiated agreement was eventually signed by India's then foreign secretary, S Jaishankar, in January this year during his Seychelles visit.
The tussle worsened when the  Seychelles Opposition accused the Faure government of undermining the country's interests as the text of the detailed project report was leaked online. Faure was forced to clarify in the parliament that no compromise had been done on the Assumption Island, which "belongs to Seychelles and Seychellois".
President Faure, ahead of his visit to India, in a press conference on June 4 said that the joint project with New Delhi to develop a naval base at Assumption Island in his country would not move forward. Faure added that the issue will not be discussed with Indian Prime Minister Narendra Modi.
Well, this is not the first time that Faure has visited India. He previously visited India in March, as well as during his tenure as his country's vice-president. Recently, he met Modi on the sidelines of the Commonwealth Summit in London. 
Faure's state visit, part of regular high-level exchanges between India and Seychelles, will also accord an opportunity to review wide-ranging bilateral cooperation including in the fields of defence and security and development partnership.