Follow us on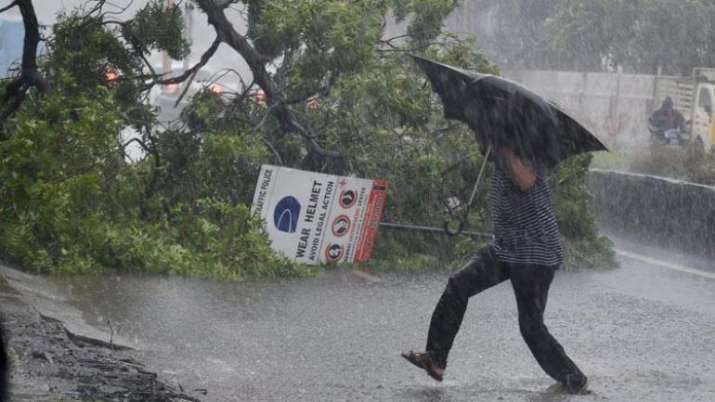 After intensifying into a severe cyclonic storm, cyclone 'Gaja' crossed the Tamil Nadu coast between Nagapattinam and nearby Vedaranniyam early Friday, a weather bulletin said today.
The death toll have rose to 11. At least 5 people were killed in Nagapattinam and two others in Cuddalore. Talking to ANI, Tamil Nadu Minister MC Sampath said that families of people who have lost their lives in the cyclone will be given ex-gratia by the state government. 
Speaking to reporters at Salem, Tamil Nadu CM E Palaniswami said relief work will be taken up on a war-footing and that the work was already underway.
"The government has received information that so far 11 persons have died," he said without divulging further information.
He said the families of the deceased will be provided a solatium of Rs 10 lakh each from the Chief Minister's Public Relief Fund (CMPRF).
 According to the Tamil Nadu State Disaster Management Authority, as many as 81,948 people were evacuated from low-lying areas and sheltered in 471 relief centres in six districts-Cuddalore, Nagapattinam, Pudukottai, Thanjavur, Ramanathapuram and Tiruvarur.
Gusty winds due to the cyclonic storm resulted in hundreds of trees and electricity poles being uprooted in Nagapattinam and Karaikal districts.
A holiday has been declared for educational institutions in Nagapattinam here.
"Severe cyclonic storm Gaja crossed Tamil Nadu and Puducherry coast between Nagapattinam and Vedaranniyam ...with wind speed of 100-110 kmph gusting up to 120 kmph, early Friday," the India Meteorological Department (IMD) said in its bulletin.
"Though the center of cyclone is over land, rear sector of eye wall is still over sea. It will take about an hour to move over land," the IMD bulletin issued at 3.15 AM said. 
However, Deputy Director General of Meteorology S Balachandran told PTI, the cyclone will take another two hours to fully cross the coast.
The severe cyclonic storm is very likely to move nearly westwards and weaken gradually into a cyclonic storm during the next six hours, the IMD said. 
During the cyclone's landfall, rains lashed Nagapattinam, Tiruvarur, and Thanjavur, uprooting trees in several regions, the details of which is expected later in the day. 
Electricity supply was disconnected here and in several other coastal regions in view of the cyclone's landfall.
Four teams each of National Disaster Response Force personnel have been already deployed in Nagapattinam district while two teams of the state disaster response force in Cuddalore district, officials said Thursday.
The state disaster management authority had released an animated video aimed at creating awareness on the do's and don'ts during cyclone.
The government has announced helpline numbers 1070 (state-level) and 1077 (districts) for those who may need assistance.
ICG steps up efforts, comes up with proactive measures
The Indian Coast Guard (ICG) has initiated a series of preemptive and proactive measures to prevent loss of lives of fishermen. Around eight ICG ships and two Dornier aircraft were pressed into action since November 9 for issuance of advisories and warnings in local languages to fishermen at sea for their safe return to ports.
The Coast Guard Remote Operating Stations have also requested fisheries authorities in Tamil Nadu and Andhra Pradesh to account for all fishing boats. 
"The ICG conducted series of community interaction programmes in Kanyakumari, Mandapam, Rameswaram, Cuddalore, Chennai, Nellore, Nizampatnam, Uppada and Vishakhapatnam to sensitise fishermen and coastal population for taking safety measures for the impending cyclone," a Defence Ministry statement said.
The actions taken by the Coast Guard are a part of the lessons learnt from cyclone 'Ockhi' and success in preventing loss of lives during recent cyclones 'Luban' and 'Titli'.  
Rajnath assures TN govt of central help to deal with cyclone 'Gaja'
Meanwhile, the Centre has assured the Tamil Nadu government of all assistance to deal with the situation arising out of the cyclonic storm 'Gaja'.
Home Minister Rajnath Singh also directed Home Secretary Rajiv Gauba to monitor the situation in Tamil Nadu and provide all help to the state administration.
"Spoke to CM Shri K Palaniswami regarding the situation in the cyclone affected areas of Tamil Nadu. Assured all possible assistance from the Centre in mitigating the situation arising due to cyclone. Asked the HS to monitor the situation & provide all help to the state admin (sic)," Singh tweeted.
FULL VIDEO: