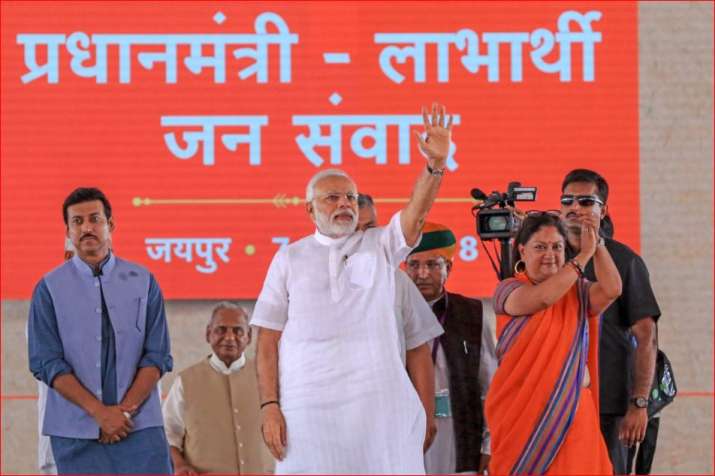 Taking a jibe at the Congress pary over many of its leaders being out on bail, Prime minister Narendra Modi on Saturday said that the party is now being called a 'bail gaadi'(bullock-cart).
Addressing a public rally in Jaipur, PM Modi said, "Several leaders who are called stalwarts of the Congress and former ministers are out on bail these days."
The prime minister further said that people were well aware of the 'intentions' of the Congress party and had started calling it a 'bail gaadi'.
PM Modi also launched a scathing attack on Congress for questioning the capabilities of the Army by raising doubts over the surgical strike into Pakistan-occupied Kashmir (PoK) in 2016.
"It is unfortunate that political opponents also committed a sin by raising questions on the capabilities of the Army. This has never happened before and the people will not forgive those who are doing this kind of politics," he said.
The prime minister said his government had resolved the issue of one rank, one pension for defence personnel.
Modi was addressing a rally of beneficiaries of welfare schemes run by the Centre and the state government in BJP-ruled Rajasthan, where assembly elections are scheduled later this year.
Rajasthan Governor Kalyan Singh, Chief Minister Vasundhara Raje, BJP state president Madan Lal Saini and other leaders attended the public meeting at 'Amrudon ka Bagh'.
Watch: PM Narendra Modi addresses massive rally of beneficiaries of government schemes in Jaipur
(With agency inputs)