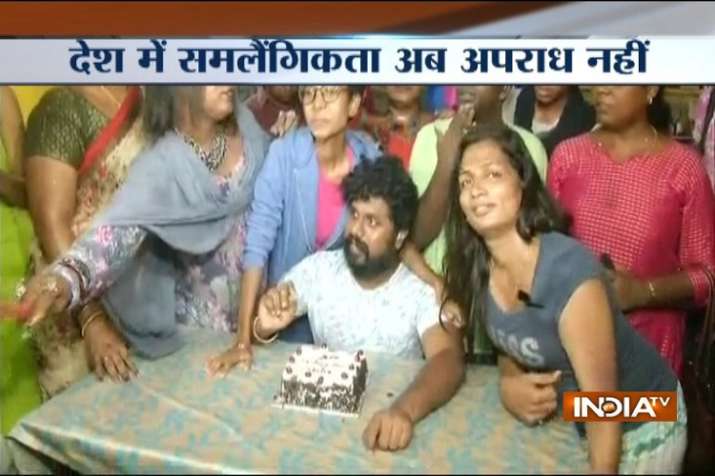 In a historic verdict, the Supreme Court on Thursday reversed its own 2013 judgement declaring the controversial Section 377 of the Indian Penal Code, which criminalised consensual gay sex, as illegal. The apex court's verdict triggered a wave of celebrations among the LGBT community across the country. The Supreme Court said Section 377 of IPC was weapon to harass members of LGBT community, resulting in discrimination. 
The LGBT community has same rights as of any ordinary citizen. Respect for each others rights, and others are supreme humanity. Criminalising gay sex is irrational and indefensible, the five-judge Supreme Court bench headed by Chief Justice of India Dipak Misra said in its unanimous decision.
Also Read: Section 377 verdict - what the Supreme Court said
Section 377 refers to 'unnatural offences' and says whoever voluntarily has carnal intercourse against the order of nature with any man, woman or animal shall be punished with imprisonment for life, or with imprisonment of either description for a term which may extend to 10 years, and shall also be liable to pay a fine.
The apex court, however, said other aspects of Section 377 of IPC dealing with unnatural sex with animals and children shall remain in force.
Celebrations in Chennai after Supreme Court legalises homosexuality. pic.twitter.com/b9Zye3F361

— ANI (@ANI) September 6, 2018
Reacting over the verdict, Congress MP Shashi Tharoor lauded the Supreme Court for standing up for equal treatment of all citizens. 
"I am pleased to welcome the Supreme Court decision to decriminalise consensual acts of adults in private. In this country we've allowed govt to interfere in private lives of people to discriminate against people on basis of sexual orientation, but Supreme Court stood up for equal treatment of citizens," Tharoor, who represents Thiruvananthapuram in Lok Sabha, told reporters.
WATCH: Big Supreme Court verdict on Section 377 
(With inputs from agencies)