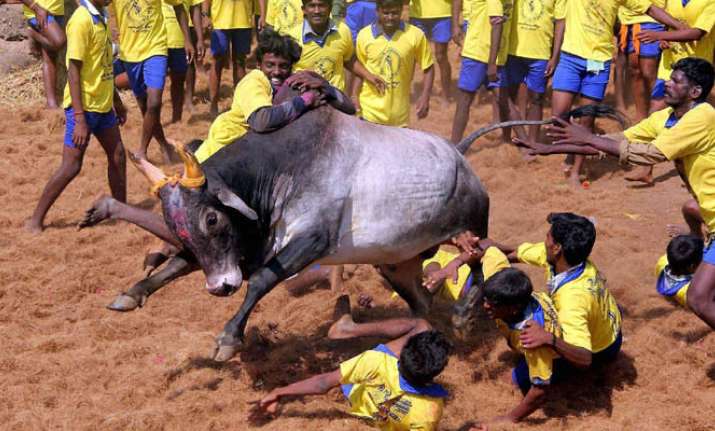 The Supreme Court on Thursday rejected a plea to allow the bull-taming sport Jallikattu held in Tamil Nadu during Pongal festivities every year. 
The apex court turned down the plea that sought its intervention in passing judgement on Jallikattu before Saturday and said that it is "unfair to ask the bench to pass the order". This, eventually, makes it impossible for the state to hold the sport during Pongal festivities this year. 
The Supreme Court had banned Jallikattu on grounds of animal cruelty in 2014 that has been continuously opposed by political parties in Tamil Nadu. 
In November last year, the apex court had dismissed the review petitions filed by the Tamil Nadu government, leaving very little chance for the Supreme Court to lift the ban on the festival. 
On Wednesday, AIADMK general secretary Sasikala had urged Prime Minister Narendra Modi to promulgate an ordinance for the conduct of Jallikattu. 
Sasikala, in her letter to the Prime Minister, noted that the ban on exhibition of bulls in the popular festival has caused 'resentment' in the state.
"No cruelty is practiced on the animals per se. Also bulls are worshipped as a deity by the religious in Tamil Nadu and care is always taken by the youth taming them (to) not to inflict any pain on them," Sasikala told Modi in a letter.
The lifting of the ban on Jallikkattu would be the "ultimate joy" for Tamils not only in Tamil Nadu, but across the globe, which would ensure that the people of the state really celebrate the Pongal festival with traditional fervour and gaiety, she said. 
On the other hand, protests have erupted across the state seeking lifting of the ban on Jallikattu. 
In Madurai, a protest by various college students reportedly turned violent when police used lathicharge to disperse the crowd. The students claimed they were going to the Collector's office to hand over a plea in favour of Jallikattu. 
Female students too joined pro-Jallikattu protests in Madurai and alleged that the ban was imposed without a study of the facts on the ground.
Students in Coimbatore also raised slogans outside the Collector's office seeking lifting of the ban over the sport.