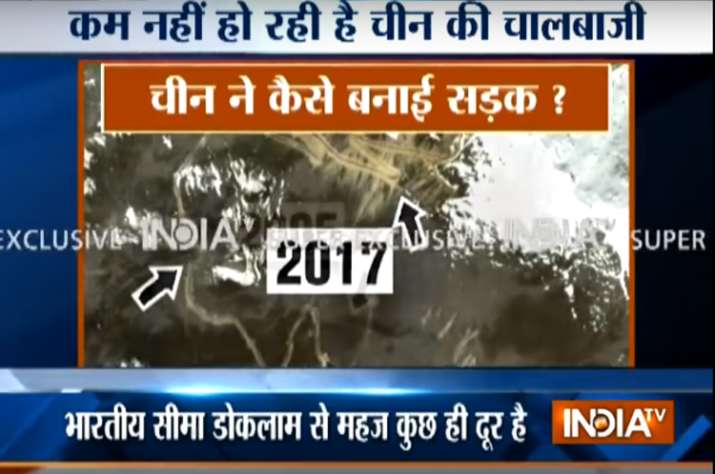 During a 73-day-long standoff between troops of India and China in Doklam, Indian soldiers may have stopped the building of a road in the area, but Chinese Army has successfully developed roads near the border over the last decade.
Satellite images accessed by India TV show how China has been steadily constructing roads in the disputed Doklam area, only a few hundred metres from Indian posts. A comparison of satellite images from 2005 and 2017 clearly shows that China has constructed an all-weather roads in the area close to Sikkim.
These roads connect Doklam to the town of Yatung in the Chumbi Valley, a Chinese Army base where soldiers deployed in the high-altitude Indo-China border near Sikkim are placed.
Satellite images from 2005 to 2017 show steady development of tracts of land into full-fledged all-weather roads that can be used for heavy vehicles.
Indian government has maintained that there are no new developments at the military face-off site in Doklam and its vicinity since the August 28 disengagement but media reports claimed last week that there were around 1,000 Chinese troops near the stand-off area.
Other reports also noted that China had maintained a sizable presence near the site of the Doklam standoff with India and even started widening an existing road which is at a distance of around 12 km from the area of conflict.
India and China were locked in a 73-day-long standoff in Doklam since June 16, 2017 after the Indian soldiers stopped the construction of a road near the Bhutan trijunction.
Bhutan also protested to China, saying the area belonged to it and accused Beijing of violating agreements that aim to maintain the status quo until the boundary dispute is resolved. India said the Chinese action to construct the road was unilateral and changes the status quo. It fears the road would allow China to cut off India's access to its northeastern states.
On August 28, India and China agreed to "expeditious disengagement" of border personnel at the face-off site in Doklam following diplomatic communications, just before Prime Minister Narendra Modi's scheduled visit to China for the BRICS Summit.