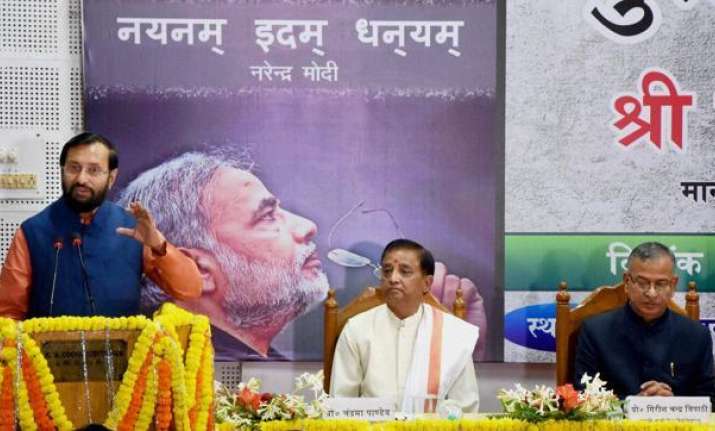 Union HRD minister Prakash Javadekar on Sunday released a Sanskrit translation of Prime Minister Narendra Modi's collection of poems titled 'Aankh Aa Dhanya Che' at BHU here.
The poems were originally written in Gujarati and translated by award-winning translator and Sanskrit scholar Rajalakshmi Srinivasan.
Releasing the book, Javadekar said, "They reveal about his (PM's) patriotic thoughts and actions."
Written as 'Aankh Aa Dhanya Che' in Gujarati, the Sanskrit translation comes with the title 'Naynam Idam Dhanyam'.
"The poetry is reflection of PM's thoughts and action, his patriotic feelings, and sensitiveness towards our villages, the poor, the farmers and our soldiers," Javadekar said.
Invoking Modi's humble background, Javadekar, the PM has love and respect for army jawan since his childhood.
"His sensitiveness towards our jawans can be gauged by the act that when our jawnas used to offer money during their train journey for tea, Modi and his family refused to accept the money out of love and respect for them," he said.
The Minister said the Sanskrit version of this poetry book is an effort to promote the language and also for the benefit of Sanskrit-loving people.
"Varanasi is the most appropriate place for the release of this book because Modi is a Lok Sabha member from here and BHU, an institution founded by Madan Mohan Malaviyaji, who along with Mahatma Gandhi and other freedom fighters wanted to impart education to all Indians," he said.
He further added, "Britishers didn't want our people to get educated and they only provided education to some selected ones only to produce few bureaucrats as per their small requirement to rule us."
Calling PM a 'Dharmayogi' and a nature-lover, The Union minister said, "His poetry revels his mindset of a karmayogi, working endlessly for the benefit of the country and also his efforts to protect and preserve our environment."
Javdekar said these poems have already been translated in Hindi, English and Tamil.
Rajalakashmi said she has translated the Tamil version of this poetry book also.
BHU Vice-Chancellor G C Tripathi said, "The poems of PM Modi carries a lot of sentiments."
Javadekar said people now a days feel there has been criminalisation of politics. "But politics is most misunderstood and underrated profession," he said.
"Not all politicians are bad. We have highly educated parliamentarians and we must boast that nearly 60 had been professors, teachers, and 30 among them have received education in world class institution and even taught thereat," he said.