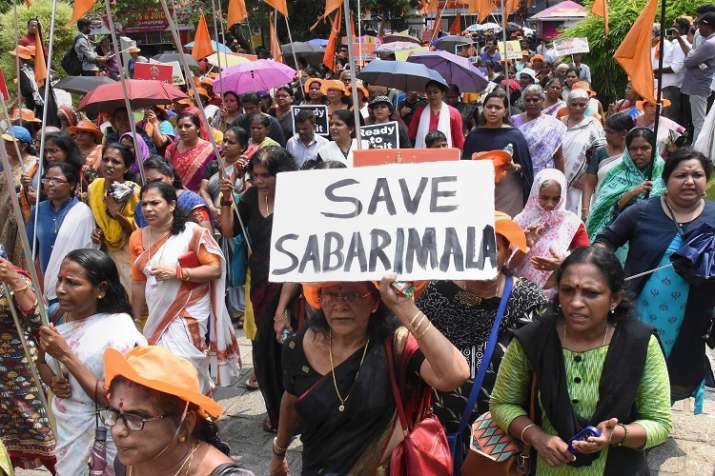 Gates of the famous Lord Ayyappa temple in Sabarimala, Kerala is set to be opened on Wednesday for all women for the first time since the Supreme Court last month lifted the centuries-old ban on entry of females in the 10-50 age group into the shrine. Tension has gripped the southern state as multiple organisations have warned of disruption and 'mass suicides' if the authorities allow women to proceed into the temple. 
Kerala has witnessed a series of protests and prayer marches over the last few days over the government's decision to enforce the Supreme Court order.
The Shiv Sena recently warned of 'mass suicides' if women of menstrual age were allowed into the temple. Some other organisations have said women and girls aged between 10 and 50 years will have to tread on them before entering the temple.
The state's LDF government has already said that it is to follow the Supreme court's verdict. Kerala CM Pinarayi Vijayan visted the temple on Tuesday to review arrangements for pilgrimage season. The temple attracts lakhs of pilgrims from across the country during the festival season between November-January every year.
Vijayan, who is facing a tough time tackling the highly emotive religious issue which has also acquired political overtones, issued a stern warning to those who dared block devotees from entering the temple.
"We will ensure security to all. Nobody will be allowed to take law into their hands. My government will not allow any violence in the name of Sabarimala," Vijayan told reporters in Thiruvananthapuram.
"Stern action will be taken against anyone who prevents devotees from going to Sabarimala. We will go by what the Supreme Court says," he asserted.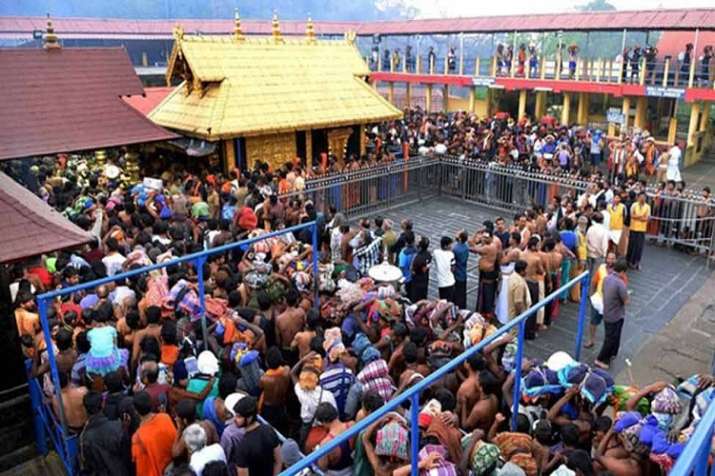 Tension simmers in state
Despite the warning, hundreds of women devotees of Lord Ayyappa were seen checking vehicles for girls and women of menstrual age at Nilackal, the main gateway to Sabarimala.  
There were also reports that members of the local tribal community were keeping a tight vigil to ensure that women between the ages of 10 to 50 were not allowed to enter the Lord Ayyappa temple which is specifically dedicated to the celibate form of the deity.
A last ditch effort by the Travancore Devaswom Board (TDB), which manages the temple, to defuse the tense situation failed to yield a solution with the Pandalam royal family and other stakeholders walking out of a meeting called by it over its reluctance to discuss the issue of filing a review petition against the apex court order.
Television channels showed some college students, including young girls wearing black dresses, being ordered to get down a bus.
WATCH: Tension simmers in Kerala ahead of opening of Sabarimala gates
(With inputs from PTI)