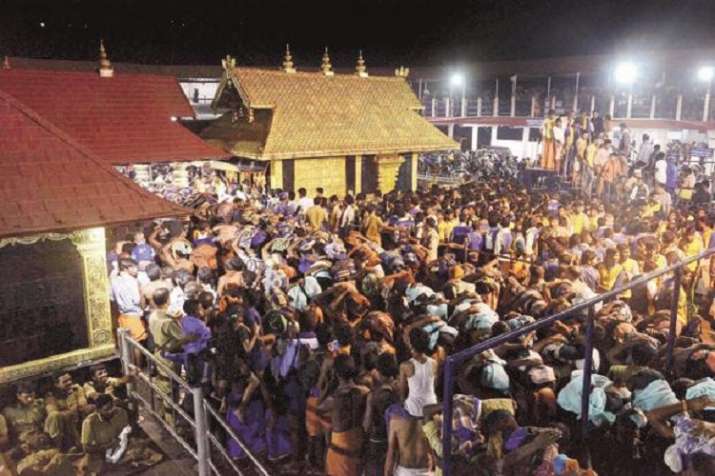 Several shops and houses of rival leaders and workers were attacked over the Sabarimala issue on Saturday, as violence involving BJP-RSS and ruling CPI(M) rocked parts of Kerala, particularly Kannur district. Besides Kannur, Perambra in neighbouring Kozhikode, Malappuram and Adoor in Pathanamthitta, where the Ayyappa shrine is located, also witnessed a series of similar attacks and vandalism Friday night and early Saturday.
Meanwhile, the UK government has updated its travel advisory to India, following violent protests in Kerala over the issue of women entering the Ayyappa temple in Sabarimala. It has warned British citizens to remain vigilant and avoid large public gatherings.
As Kerala continued to witness incidents of violence, Governor Justice P Sathasivam on Saturday briefed the Centre about the law and order situation in the southern state.
"Briefed Hon'ble Union Home Minister Shri Rajnath Singh about the law and order situation in Kerala in the last two days Kerala," he tweeted.
Sabarimala row latest updates
07:51 am: Governor briefs Home Minister Rajnath Singh about the situation over phone, say Raj Bhavan sources.
07:30 am: Governor Justice P Sathasivam seeks an an "urgent report" from Chief Minister Pinarayi Vijayan over widespread witness of violence over the entry of women into the Sabarimala temple
06:49 am: Any British citizens planning to travel to Kerala should monitor media reports, says the Foreign and Commonwealth Office (FCO)
06:15 am: Bombs hurled at several places, including at the houses of CPI(M) MLA A N Shamseer in Madapeedikayil, BJP leader and Rajya Sabha member V Muraleedharan at Vadiyil Peedikia and former Kannur district secretary of CPI(M) P Sasi at Thalassery in Kannur district