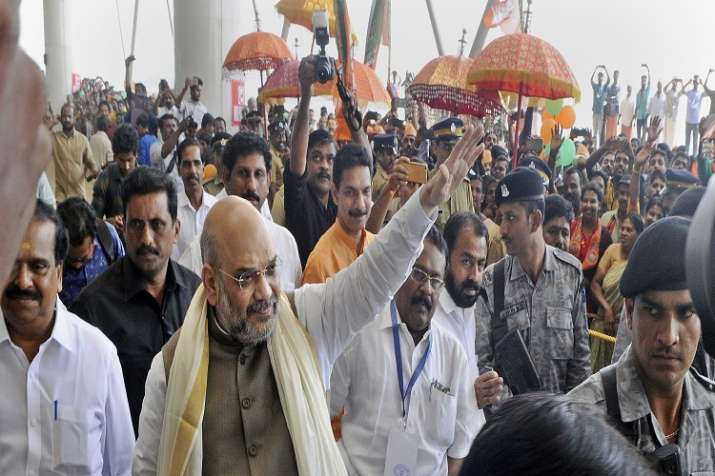 BJP President Amit Shah on Saturday lashed out out the LDF government in Kerala, saying the Pinarayi Vijayan government was trying to suppress the agitation led by Ayyappa devotees by force.
Addressing party workers after inaugurating the district BJP office in Kannur, Shah said the state government was using police force to challenge the protest by devotees.
He condemned the arrest of over 2,000 devotees, including RSS and Sangh Parivar activists, across the state agitating against the entry of women of all ages into the temple.
Shah alleged that the communist government is "conspiring against temples" and came out in support of Ayyappa devotees, who have been protesting against the implementation of the Supreme Court decision to allow entry of women of menstrual age into the shrine.
"An Emergency-like situation exists in Kerala," Shah alleged and accused the CPI(M)-led LDF government of "suppressing" the Ayyappa devotees' agitation.
Listing court verdicts which have not been implemented, including on 'Jallikattu' (traditional bull taming sport of Tamil Nadu) and prohibiting loudspeakers in mosques, Shah said "impractical" directions should not be given by courts and they should pass orders that can be implemented.
"You concentrate on developing the state rather than attacking the Ayyappa bhakts," the BJP president said and warned Chief Minister Pinarayi Vijayan that he would have to pay a "heavy price" if this continues, as BJP workers "would not hesitate to pull down the government".
Making it clear that the saffron party was all set to make the Sabarimala issue one of its main agendas in the state, he concluded his speech by asking party workers to call "Swamiye Saranam Ayyappa."
Hitting back at Shah, Kerala CM Pinarayi Vijayan reminded him that the state government was not at the mercy of the BJP.
"But this is a government elected by the people. Shah's speech gives the message that the electoral verdict will be sabotaged," Vijayan claimed in a statement.
"All democratic-minded people should raise their voice against this," he said.
Vijayan also claimed that Shah's speech was more against the Supreme court and the Constitution rather than against the state government.
Kerala has been witnessing protests against the entry of girls and women of menstrual age into Sabarimala temple since the government had said it would abide by the ruling of the apex court.
The agitation intensified since the shrine was opened for the five-day monthly pooja on October 17. The Sabarimala temple closed down for the month on Monday with not a single woman being able to visit the shrine due to the protests that followed the Supreme Court's verdict overturning the ban on the entry of women of a menstrual age.
On September 28, a five-judge Constitution bench of the Supreme Court, headed by then chief justice Dipak Misra in a 4:1 judgment had lifted the centuries-old ban on the entry of women of menstrual age into the shrine.