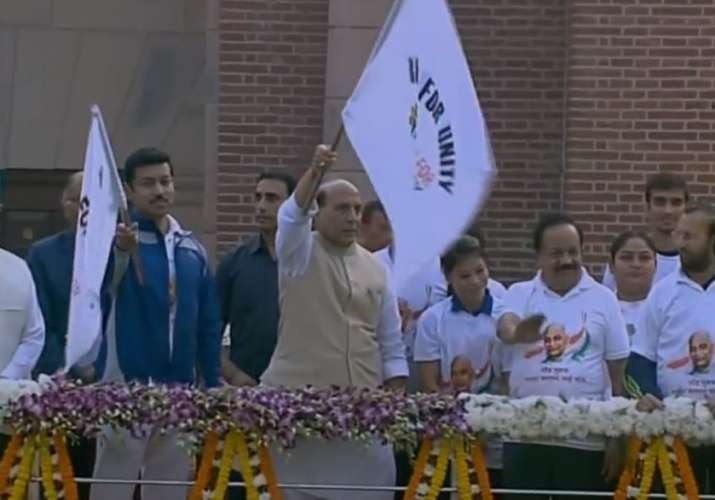 People across the country are participating in the Run for Unity marathons being organised to mark the birth anniversary of Sardar Vallabh Bhai Patel. In New Delhi, the event was inaugurated by Union Home Minister Rajnath Singh at Major Dhyanchand Stadium. 
Many renowned sportspersons have joined the run, including former five-time world boxing champion Mary Kom and gymnast Dipa Karmakar. 
At least 2000 participants from Sports Authority of India (SAI), National Service Scheme (NSS) and National Yuva Kendra Sangathan (NYKS) will also 'Run for Unity' in New Delhi
Zafar Iqbal (Olympian, Hockey), Sharad (Para Athelete),  Abhishek Verma (Archery) and Sonia Lather will also take part in the 'Run'. 
Also read | Statue of Unity inauguration LIVE: PM Modi to unveil world's tallest statue in Gujarat's Kevadiya on Sardar Patel's birth anniversary
Here are the highlights from 'Run for Unity' : 
08:20 am: I participated in Run For Unity last year as well. It's a day of extreme significance and I will try my best to witness it (inauguration of Sardar Vallabhbhai Patel's Statue Of Unity): Gymnast Dipa Karmakar at "Run for Unity" in Delhi
08:18 am: 
Tamil Nadu: Defence Minister Nirmala Sitharaman flags off & participates in #RunForUnity in Chennai, on #RashtriyaEktaDiwas. pic.twitter.com/awqYF21eMz

— ANI (@ANI) October 31, 2018
07:56 am: 
Delhi: #Visuals of #RunForUnity from near India Gate. Sardar Vallabhbhai Patel's #StatueOfUnity, the tallest statue in the world, will be inaugurated in Gujarat's Sadhu Bet on his 143rd birth anniversary today. pic.twitter.com/MPSx8VOnlq

— ANI (@ANI) October 31, 2018
07:44 am: New agency ANI shares visuals of Home Minister Rajnath Singh flagging off marathon runners. 
Home Minister Rajnath Singh and Sports Minister Rajyavardhan Singh Rathore flag off "Run for Unity" in Delhi on 143rd birth anniversary of Sardar Vallabhbhai Patel. Gymnast Dipa Karmakar among other sportsperson also present. #StatueOfUnity pic.twitter.com/9emHGaemag

— ANI (@ANI) October 31, 2018
07:30 am: Union Home Minister Rajnath Singh addresses the inauguration of 'Run for Unity' from Major Dhyanchand Stadium in New Delhi
07:30 am: 
Union Minister Dharmendra Pradhan participates in Run For Unity at Odisha's Bhubaneswar. #SardarVallabhbhaiPatel pic.twitter.com/EqviyWNGAh

— ANI (@ANI) October 31, 2018
07:00 am: 
#PresidentKovind, Vice President @MVenkaiahNaidu and Home Minister @rajnathsingh pay floral tributes to #SardarVallabhbhaiPatel #RashtriyaEktaDiwas #NationalUnityDay pic.twitter.com/blFZ34SCvm

— PIB India #StayHome #StaySafe (@PIB_India) October 31, 2018
06:00 am: Delhi Police traffic advisory for Run For Unity
October 31, 2018
According to reports, several celebrities, sports stars, and even techies have been roped in to make the marathons a success. 
The Government is planning  to make this day special, to reinforce the dedication to preserve and strengthen unity, integrity and security of the nation by celebrating it to commemorate the birth anniversary of Sardar Vallabh Bhai Patel, one of the founding fathers of the Republic of India, he added.
Coinciding with inauguration of Sardar Patel's statue in Gujarat's Kevadia, the marathons are aimed at spreading the message of national unity. 
Since 2013, October 31 is celebrated as the 'Rashtriya Ekta Diwas' (National Unity Day) to commemorate the legacy of Sarday Patel, who is credited for bringing India's princely states under one flag after independence. The marathons, which annually see thousands of participation, are likely to have an unprecedented turnout this year.