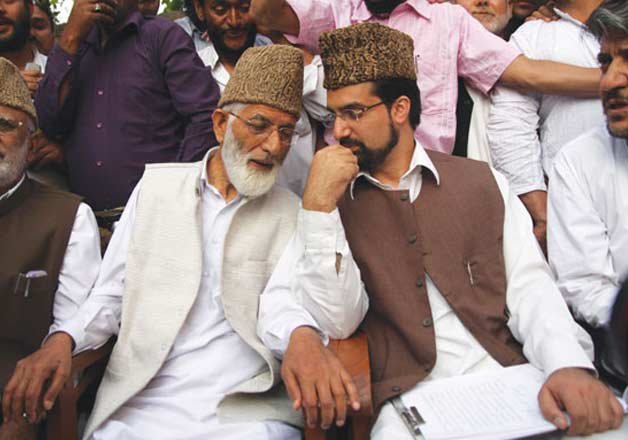 Following Hurriyat leaders' snub to all-party delegation of Parliamentarians, the Narendra Modi government is mulling to curtail the facilities provided to separatist leaders in Jammu and Kashmir. 
The government, toughening its stand, may stop or at least curb the facilities like foreign trips, security and medical treatment provided to likes of Syed Ali Shah Geelani, Mirwaiz Umar Farooq and Yasin Malik, media reports said, citing Home Ministry sources.
And there appears to be good reason why the government is hardening its stand against the separatist leaders. Not only has the separatist faction been accused of toeing Pakistan's line, it now appears they happen to be a big financial burden as well.
According to a report published in Hindi daily Amar Ujala, the government spends nearly Rs 100 crore a year on separatist leaders. The state government, as per the report, spent a staggering Rs 506 crore catering to security and other facilities for separatists.
Ironically, the amount the state government has spent on securing the separatists who have left no occasion to denounce India's stand on Kashmir, is more than Jammu & Kashmir's Rs 484 crore budget of Sarva Shiksha Abhiyan. According to data provided by the state governments in 2015, the state spent Rs 309 crore on the salary of guards, providing security to these leaders, in five years. 
Nearly 1000 security guards are assigned to the security arrangements of separatists. 
Besides security, the government has also been footing luxury bills for separatist leaders. As per the report, the state spent Rs 21 crore on hotel stays for separatist leaders and Rs 26.43 crore on fuel expenditure.
The claims had also been voiced by BJP's J&K legislator Ajat Shatru Singh in June this year. Ajat Shatru had claimed that the Centre and state government had spent Rs 560 crore on separatists in the past five years, while ignoring the needs of the lawmakers. 
Speaking in the Zero Hour Session, in the Legislative Council, the ruling party MLC said slammed the government saying it had provided more than 950 PSOs to people "who seek Azadi from India." 
While separatist leaders enjoy a lavish lifestyle on taxpayers' money and provoke Kashmiris against Indian state, they keep their own family members away from trouble. 
All Parties Hurriyat Conference Chairman Syed Ali Shah Geelani's grandson is employed with a marketing and communication company in Dubai. 
Meerwaiz Umar Farooq is married to a US citizen Sheeba Masoodi who lives in the States along with their daughter. Meerwaiz's sister Rabia, a doctor, also lives in the USA. 
Muslim Conference leader Ghulam Nabi Sumji's son has been living with relatives in Delhi from a very young age. A son of Hurriyat leader Mohammad Ashraf Sahrai also lives in Dubai and works as a software engineer in a firm. 
Fareeda Behanji's daughter Rubina lives in South Africa where she is a practicing doctor.
The Centre is also considering moves to curb their foreign travel by withdrawing their passports and denying travel documents in some cases. 
Besides these, the Centre will also scrutinise their bank accounts and complete pending investigations in cases against them so a strong message goes around that those provoking youths in Kashmir Valley to create disturbance since the killing of Hizbul Mujahideen commander Burhan Wani on July 8 will not be spared, government sources said.
The Home Ministry's tough stand came apparently after the nod from Prime Minister Narendra Modi, who is said to have conveyed that time has come to act tough with the separatists, sources said.
Sources said there was a feeling in the government that lack of governance was a major concern for Jammu and Kashmir and this needs to be addressed.
The central government feels that the state government is treating separatists with kid gloves and have to be tough against them, they said, claiming students, parents and the middle class were getting restless and wanted the cycle of violence to end.
The final decision on these issues, however, will be taken after the all-party delegation, which visited the troubled state, meets here tomorrow and consultations at the highest level of the government, sources said.
The government's decision to curb facilities to separatists comes a day after Home Minister Rajnath Singh slammed the separatist faction for refusing to meet MPs and dubbed their actions as not being consistent with both 'Kashmiriyat' and 'Insaaniyat'.
Five MPs of 26-member delegation tried to talk to separatists but they refused to engage in discussions.
CPI-M's Sitaram Yechury, Sharad Yadav of JD-U, Jaiprakash Narayan Yadav of RJD, AIMIM's Asaduddin Owaisi and D Raja of CPI had gone to meet Hurriyat leaders.
Rajnath, who led the delegation to the J&K, today apprised Prime Minister Narendra Modi about the ground situation in the state.