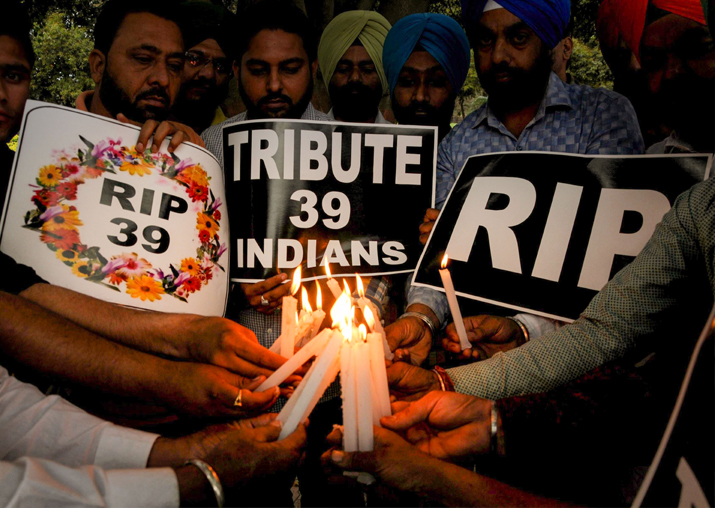 The government told Parliament that 39 Indians abducted in Iraq in 2014 were killed by Islamic State terrorists and buried in a mass grave, setting off a row with the opposition accusing it of being insensitive for not informing the victims' families first. 
The Congress and other opposition parties like the CPI-M and the National Conference slammed the government for making the announcement of the deaths in Parliament before intimating the families concerned, calling it "insensitive and unpardonable". 
Some family members blasted the government for giving false hope, a charge rebuffed by the External Affairs ministry.
External Affairs Minister Sushma Swaraj earlier in the day told Parliament that all the 39 Indians abducted in Mosul are dead and their bodies have been recovered. A group of 40 Indian workers, most of them from Punjab, were taken hostage by terror outfit ISIS when it overran Iraq's second largest city Mosul in 2014. Of the 40 Indians, one Harjit Masih from Gurdaspur had managed to escape and had claimed to have witnessed the massacre of the others. But the government rejected his claim. 
Congress Communications incharge Randeep Surjewala said the Modi Government has crossed all limits of insensitivity as it preferred to make the announcement of deaths of 39 Indians on television than call up every families of those dead. 
"Modi Government has crossed all limits of insensitivity. The Indian Government had on seven occasions told the families of the 39 Indians kinapped by ISIS in Iraq that they are alive. The question is why did the Modi Government mislead the nation and the family members of those Indians kidnapped by ISIS," he told reporters. 
Referring to her statements in Parliament in 2014 and 2017, Swaraj said, "I never gave any false hope to anyone. I was not involved in any falsehood. It was an effort which was perhaps never been made in this country". 
She further said, "I had very clearly said that I will declare them dead if I get conclusive proof. I kept my word. I will get my closure when the families receive the bodies." 
On criticism by family members of some of the deceased who said they got to know about death of their loved ones through television, Swaraj said she followed Parliamentary procedures. "It was my duty to first inform the House about (it)." 
Details of 39 Indians killed by ISIS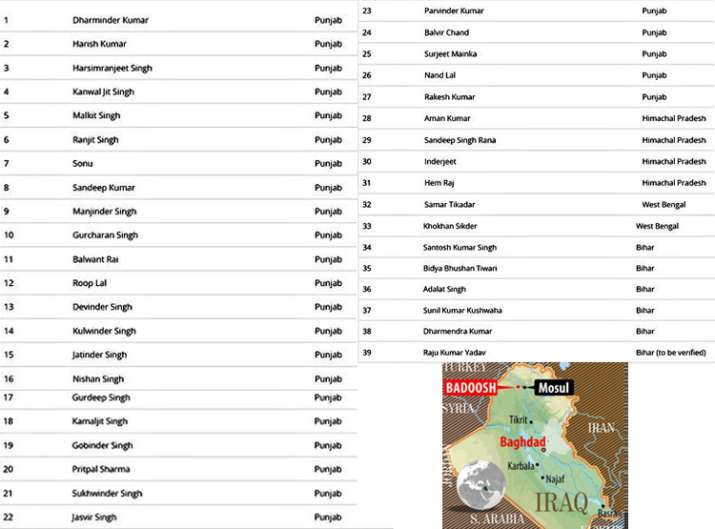 National Conference leader Omar Abdullah said it was "unpardonable" that the families of the 39 Indians had to learn about their heartbreaking loss from television channels instead of the government. 
"Nothing Govt of India says can make up for the sheer heartlessness displayed today. Using Parliament as an excuse for the families of 39 dead Indians having to learn of their heartbreaking loss from TV channels is unpardonable (sic)," Omar said in a tweet. 
CPI (M) leader Mohammad Salim said this showed how "insensitive and inhuman" the government is. "It is a farce. The government should have contacted the families of the victims first before Parliament was informed." 
Punjab Chief Minister Amarinder Singh said the deaths should have been announced earlier. "This(the deaths) was known much earlier," he said. 
As they try to come to terms with the bitter reality, several family members wondered why the government kept them in the dark all this while. 
"What do we say now?. The government kept us in the dark all these years. Now after four years, they are making such a shocking statement," said a dejected Sarwan whose 31-year-old brother Nishan was among those killed. Sarwan said he last heard his brother's voice over phone on June 21, 2014.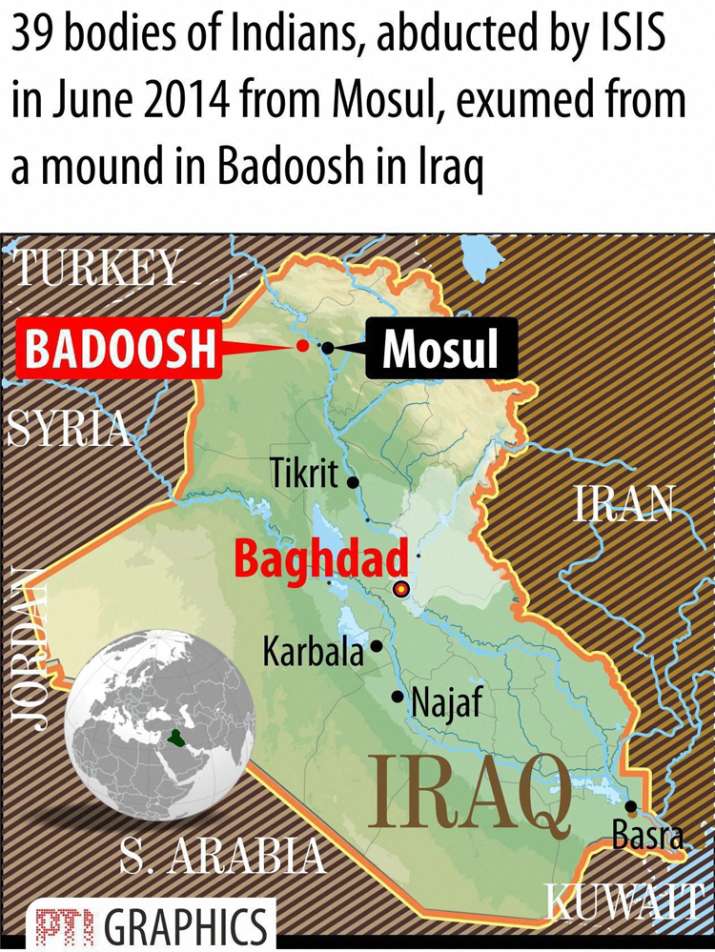 Congress leader Shashi Tharoor accused the government of giving false hopes, saying it was cruel and suggested a lack of transparency. The performance of the government in dealing with this crisis has been "disappointing", he added. 
"Why did Sushma Swaraj mislead the families for more than 3 years. This is complete failure of MEA & GOI," Congress leader and Rajya Sabha member Partap Singh Bajwa tweeted. 
"I raised this issue many a times in Rajya Sabha that why is the Government playing with emotions of families by giving them false hopes. Can there be anything more shameful than this?" Bajwa added. 
AAP leader and Kharar MLA Kanwar Sandhu demanded the resignation of Swaraj. 
"Sushma Swaraj should resign as external affairs minister taking responsibility for the lies she spread about the 39 missing Indians in Iraq," Sandhu said in a tweet. 
Hitting back, Union Food Processing Minister and Akali Dal MP Harsimrat Kaur Badal accused the opposition leaders of playing politics over an unfortunate incident. 
Defending the government, she said it took every measure to verify if even one of those kidnapped was alive.
Watch video: Aaj Ki Baat -- March 20, 2018