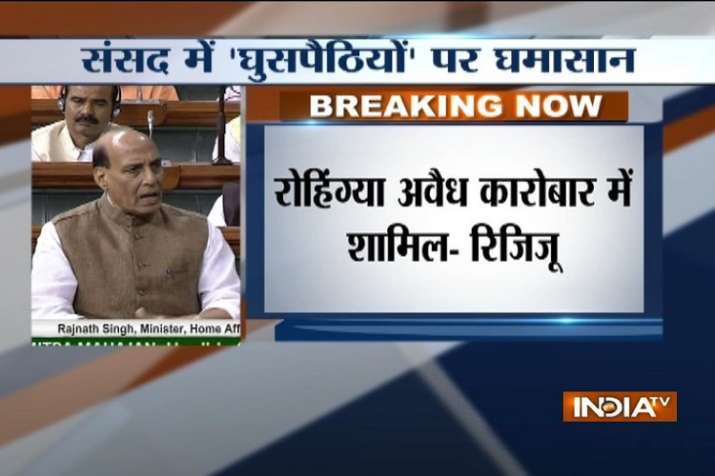 The issue of National Register of Citizens (NRC) and Rohingya refugees reverberated in Parliament on Tuesday with the Opposition demanding explanation from the government why 40 lakh people were excluded from the draft citizens' list in Assam. 
Initiating the debate in Lok Sabha, Shiv Sena MP Arvind Sawant questioned how authorities have been provided Aadhaar and Voter id to Rohingyas living in various states of the country. 
Responding over the issue, Home Minister Rajnath Singh said that the Centre has issued new advisory to state governments concerning Rohingyas and made is clear that they would be deported to Myanmar. 
Rajnath asked the states to inform the Centre about the number of Rohingyas residing within their territory so that the same could be conveyed to Ministry of External Affairs which will then get in touch with the Myanmar government to deport them.
"Once we get the exact data on NRC, we will give it to the MEA and the MEA along with the coordination with the Myanmar govt will take action on the deportation of Rohingyas," Rajnath said.
"Border Security Force and Assam Rifles are deployed to stop further infiltration of Rohingyas. Have issued advisory to states to monitor those who have already come and keep them at one place and not let them spread. States also have right to deport them," the Home Minister said in the Lower House of Parliament.
Minister of State for Home Affairs Kiren Rijiju added that the priority of the government is to take care of its own citizens first.
"Thousands of refugees are staying in India. India has been very soft towards immigrants but that doesn't mean that there will be no system to regularise it. Our priority is taking care of our citizen first," Rijiju said.
An estimated 7,00,000 Rohingya Muslims have fled Myanmar's Rakhine State since the military crackdown on alleged militant outfits of Rohingya Muslims in August 2016, resulting in a major crisis in neighbouring Bangladesh. Lakhs of Rohigyas have sneaked into India from Bangledesh.
WATCH: No more Rohingyas will be allowed in India, says Rajnath Singh in Lok Sabha