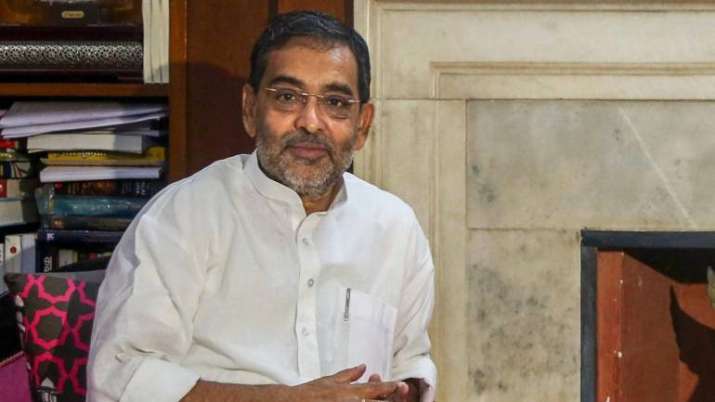 Minister of State for Human Resource Development and Rashtriya Lok Samata Party (RLSP) chief Upendra Kushwaha has resigned as Union Minister, news agency ANI reported quoting sources.
Kushwaha, in his resignation letter to Prime Minister Narendra Modi, said he was "dejected" and "betrayed" by the PM's leadership, according to party sources.
"It is unfortunate that the government's priority is not to work for the poor and oppressed, but to fix political opponents by hook or crook," Kushwaha said in the letter.
Sources told IANS that Kushwaha, who has been at loggerheads with the Bharatiya Janata Party (BJP) over the seat-sharing formula in Bihar for the 2019 Lok Sabha election, will also resign from the National Democratic Alliance (NDA) after weeks of speculation.
Addressing press conference after submitting his resignation, Kushwaha said that Prime Minister Narendra Modi could not meet the expectations of people of Bihar. 
"When ascended to power in 2014, BJP had promised to fulfill many promises. It had even promised to uplift the status of the minority communities in Bihar. But the government has clearly failed to fulfill the promises. The government could not give the 'special package' to Bihar. The law and order system and status of educational institutions are in shackles. Nothing special has been done for Bihar under the leadership of PM Modi. Ever since he came to power as Prime Minister, we noticed that nothing of what he promised and committed, actually happened", said Kushwaha.
Kushwaha also attacked Nitish Kumar, saying the Bihar chief minister was against him.
The RLSP chief is likely to meet Congress president Rahul Gandhi later in the day.
Earlier in the day, the Minister told the media that he will not participate in the NDA meeting at Parliament House complex slated to be held at 4 p.m.
"I will not participate in the NDA meeting," he told reporters.
Kushwaha has been critical of the BJP since it announced that the saffron party and the Janata Dal-United (JD-U) would contest 17 seats each in Bihar.
Since the seat sharing announcement, Kushwaha has been critical of Bihar Chief Minister Nitish Kumar.
As per the tentative arrangement, the RLSP was to be given two seats, one less than the number it had contested in the 2014 Lok Sabha polls.
Welcoming Kushwaha's resignation, Rashtriya Janata Dal leader Jay Prakash Narayan Yadav said he has taken the right decision which is in favour of democracy and now he should decide his future course of action to remove the BJP from power.
(With IANS inputs)
WATCH VIDEO: