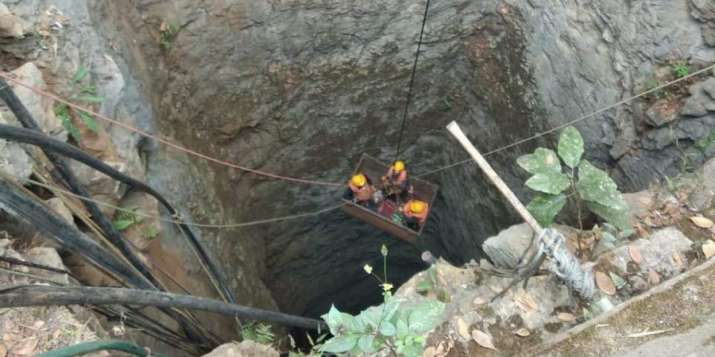 Two teams of a private pump manufacturing company, which has volunteered to provide equipment to drain out water from the rat-hole coal mine in Meghalaya where 15 diggers have been trapped for nearly a fortnight, arrived at the site on Thursday.
Rescuers from the Indian Air Force and Coal India are expected to reach the mine in East Jaintia Hills district on Friday.
Superintendent of Police Sylvester Mongtynger said two teams from Kirloskar Brothers Ltd arrived on Thursday to help in rescuing the miners trapped in the 370-foot-deep illegal mine.
"We are deeply concerned about the trapped miners in Meghalaya and are ready to help in whichever way possible. We are in touch with the officials of the Government of Meghalaya to offer our assistance in this regard," Kirloskar Brothers Ltd said in a statement late on Wednesday night.
Indian Air Force spokesperson Ratnakar Singh said the National Disaster Management Authority has requested the IAF to airlift rescuers from Bhubaneswar to either Guwahati or Shillong airport on Friday.
Sources in Coal India Ltd said on Thursday officers and surveyors are on their way to the site.
Congress president Rahul Gandhi on Wednesday came out all guns blazing at Prime Minister and said that at a time when 15 miners were trapped in Meghalaya coal mine, Narendra Modi was "posing for cameras". 
He accused PM Modi of posing for cameras and strutting on the Bogibeel bridge on the mighty Brahmaputra river after inaugurating it on Tuesday.
"15 miners have been struggling for air in a flooded coal mine for two weeks. Meanwhile, PM struts about on Bogibeel Bridge posing for cameras. His government refuses to organise high-pressure pumps for the rescue. PM please save the miners," tweeted Gandhi.
The miners were trapped after water from the nearby Lytein river suddenly gushed into the pit.
The police force in East Jaintia Hills district, where the mine is located, do not have adequate personnel to deal with the problem, news agency PTI quoted a senior Meghalaya home department official as saying.