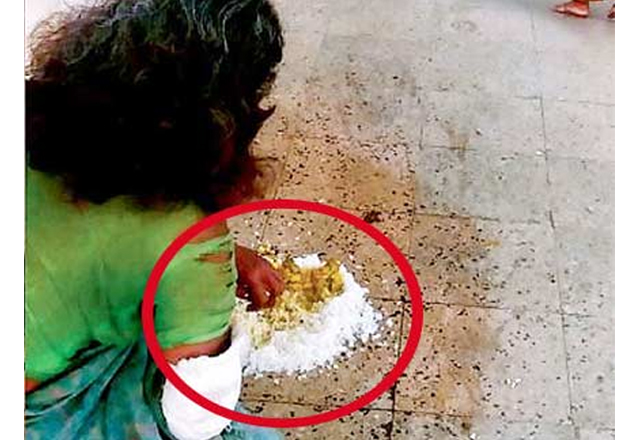 A disturbing visual has surfaced from Ranchi's Rajendra Institute of Medical Sciences (RIMS) that highlights the poor condition of medical facilities in the state.
The horrifying visual captured by Hindi daily Dainik Bhaskar shows a patient eating food on the floor of the hospital. 
The patient, identified as Palmati Devi, ate her meal (rice, dal and vegetables) that ward boys served on the floor.
The report said that Palmati, with her fractured arm, was first asked to clean the floor and told that there was no plate available.
Palmati didn't have her own plate and had asked for one, but the kitchen staff refused to provide her a plate and instead served food on the floor.
When the matter was brought to the notice of hospital's administration, an inquiry was initiated into lapses. 
"It's not a common practice but we have started an inquiry and will take action those who served the food on the floor and then forced her to eat from there," hospital's Director BL Sherwal said.
RIMS is Jharkhand's biggest government hospital and has an annual budget of Rs 300 crore.