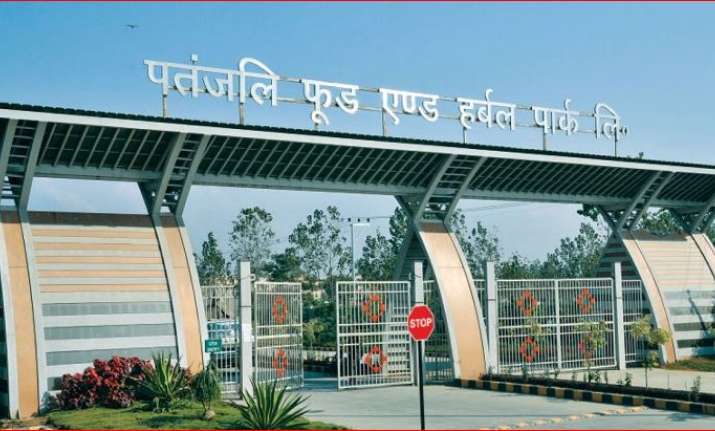 Swami Ramdev's Patanjali Ayurved Ltd on Tuesday decided to shift its proposed mega food park from Greater Noida after the central government cancelled the permission given to the company in this regard. The land allotted to the company for this project has also been taken back by the government.
Patanjali MD Acharya Balkrishna told India TV that the permission has been denied by the central government due to "indifferent" approach of the Uttar Pradesh government which could not complete the requisite "paper work".
Acharya Balkrishna claimed that the central government had extended all help for the Patanjali Food and Herbal Park . However, he accused the Yogi Adityanath government of not cooperating with the company for the completion of the project.
He also claimed that the company had paid the full amount for the land acquired for the project, adding the work had also started. He also disclosed that Swami Ramdev had himself talked to Chief Minister Yogi Adityanath regarding this project but things could not materialise. 
He also alleged that though the previous Akhilesh Yadav government had expedited the process of approvals, the Yogi government did not show any urgency.
Acharya Balkrishna further alleged that work is not moving forward under Yogi Adityanath government and only statements are being issued.
"That's the reason we have decided to move out the mega food park," he added. 
Acharya Balkrishna took to twitter to make the announcement in this regard. Blaming the Uttar Pradesh government for his company's decision, he said that  Noida food park would have brought prosperity to the land of Lord Rama and Krishna.
" This will remain a dream because of the indifference of the state govt. Patanjali has decided to shift the project to elsewhere," he added.
आज ग्रेटर नोएडा में केन्द्रीय सरकार से स्वीकृत मेगा फूड पार्क को निरस्त करने की सूचना मिली
श्रीराम व कृष्ण की पवित्र भूमि के किसानों के जीवन में समृद्धि लाने का संकल्प प्रांतीय सरकार की उदासीनता के चलते अधूरा ही रह गया #पतंजलि ने प्रोजेक्ट को अन्यत्र शिफ्ट करने का निर्णय लिया pic.twitter.com/hN6LRbhO4i

— Acharya Balkrishna (@Ach_Balkrishna) June 5, 2018
Former Chief Minister Akhilesh Yadav had laid the foundation of Patanjali's mega food park in Noida way back in 2016. The park was to be constructed in 425 acres with an investment of Rs 6000 crore.
Watch Video: Patanjali to shift mega food park out of Noida
​