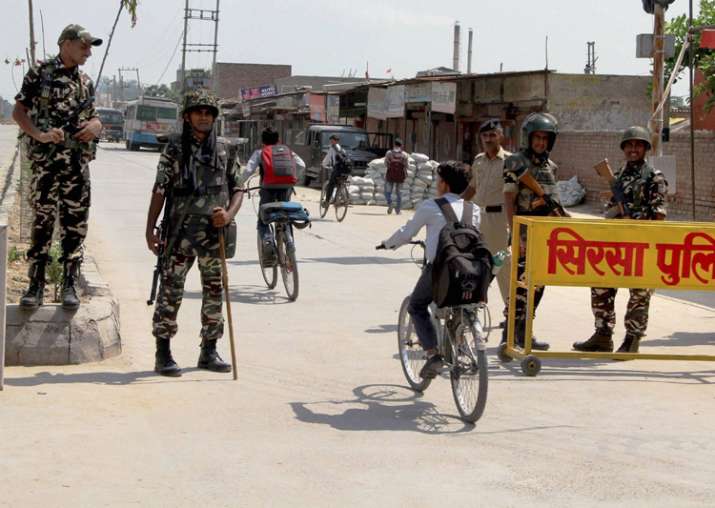 The second day of search and sanitisation operation inside Sirsa-based Dera Sacha Sauda headquarters is underway. The entire search operation is being overseen by retired District and Sessions Judge AKS Pawar, the court commissioner appointed by Punjab and Haryana High Court. According to some media reports, the officials are expected to dig Dera premises today.
On the first day of the search operations yesterday, a bullet-proof Lexus car without a number, unlabelled pharmacy medicines, Outside Broadcasting (OB) van, cash, hard discs and computers were seized from the Dera premises. The authorities said that they also seized at least 1500 pairs of shoes and over 1000 stylish clothes during the search. 
The Dera is spread over two campuses, 600 acres and over 100 acres respectively, about eight km from Sirsa and 260 km from Chandigarh. It houses a stadium, a hospital, educational institutions, luxury resort, bungalows and markets. Hundreds of people and sect followers permanently live and work in the mini-township. The premises, where the sect chief Ram Rahim lived, known as the "gufa" (cave), is itself spread over an area of nearly 100 acres. It is said to have ultra-luxury facilities. The campus has palatial bungalows of his other family members, none of whom are in the premises since August 25, the day Ram Rahim was convicted of rape and sent to jail.
As it happened on Day 2:
6pm: Day 2 of Dera headquarters search ops ends; to resume tomorrow 
12:15pm: Illegal fire cracker factory found inside Dera premises 
Haryana: Fire crackers factory sealed, explosives & fire-crackers seized from #DeraSachaSauda as search continues in Dera HQ in Sirsa pic.twitter.com/sYd4hwmO4v

— ANI (@ANI) September 9, 2017
10:50am- Court commissioner AKS Pawar reached Dera headquarters in Sirsa
10:25am- Body of a Dera follower found in a well of Blakra village
# Haryana Police arrest 3 Dera followers for hatching conspiracy of trying to help Ram Rahim escape from Panchkula during agitation
10:20am- Second day of search operations begin