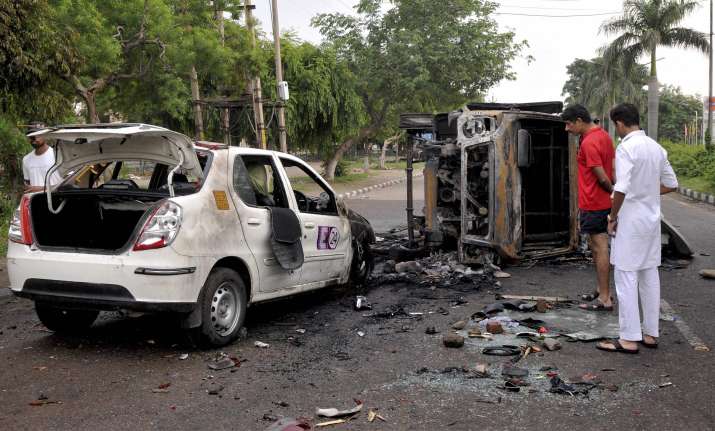 Hours before the CBI court announced the verdict in the rape case against Gurmeet Ram Rahim after which arson and violence took an ugly face leaving 36 people dead and over 250 injured, the Haryana Police had intercepted several telephone calls and messages that instructed Sera Sacha Sauda followers to gather at Panchkula and be prepared for violence. 
"There are technical interceptions of phone calls from different districts wherein directions were being given to dera followers to gather at Panchkula," Panchkula commissioner of police A S Chawla said.
"There are many messages in which such directions have come. What has to be checked is whether it was the dera's main leaders who issued the instructions or followers. All this is serious business which needs to be looked into individually. But certainly there were indications from some of their top bosses and district heads for people to gather at one place," he added. 
He said that the police were trying to identify and nab the culprits, adding that the phone calls also revealed that the followers were instructed not to move towards the court premises on account of the strict vigil maintained there by security personnel. 
Chawla said that the interceptions will be handed over to the Punjab and Haryana high court as directed by the court. 
Meanwhile, the Haryana government on Saturday sealed over 30 congregation centres of the Dera Sacha Sauda across the state, and also sacked its deputy advocate general for "accompanying" Ram Rahim after his rape conviction. 
Facing flak over the violence, the Haryana government suspended Ashok Kumar, the Deputy Commissioner of Police in Panchkula, alleging that his "defective" prohibitory orders allowed the crowd build-up in the district. 
The high court reprimanded the Haryana and the central governments over the deadly rioting by Rahim's followers. The Manohar Lal Khattar government in Haryana confronted sharp words as the court said: "You let a city like Panchkula burn for political motives."
Haryana chief minister Manohar Lal Khattar is facing criticism for failing to check the violence, a virtual repeat of the shoddy security arrangements during the Jat community protests for quotas last year in which nearly 30 people died.