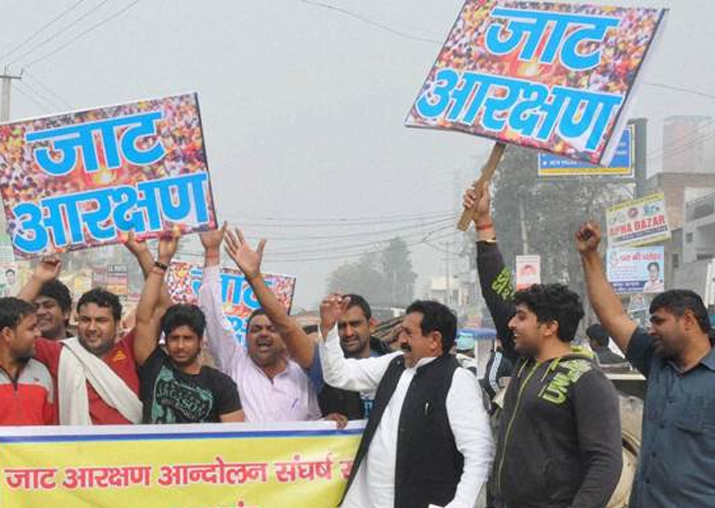 The Haryana government has suspended mobile Internet services in 13 districts for three days, apprehending law and order problem in view of two public rallies by a Jat body and ruling BJP's Kurukshetra MP on November 26.  
MP Raj Kumar Saini, who was opposing quota for Jats, had announced a "Samanta Maha Sammelan" in Jind while All India Jat Aarakshan Sangharsh Samiti national president Yashpal Malik had also announced a rally in Rohtak district's Jassia on the same day. 
Internet services on mobile networks, except voice calls, in the districts of Jind, Hansi, Bhiwani, Hisar, Fatehabad, Karnal, Panipat, Kaithal, Rohtak, Sonipat, Jhajjar, Bhiwani and Charkhi Dadri shall remain suspended for three days until the midnight of November 26, an official order said. 
The order, which came into force on Friday, was issued by Additional Chief Secretary (Home Department) SS Prasad. 
"The order is issued to prevent any disturbance of peace and public order in the jurisdiction of state of districts as mentioned...," it said. 
It said there was a likelihood of tension, danger to human life and property, disturbance of public peace and tranquility in Haryana by protestors and anti-social elements during the two public rallies on Sunday. 
The state has been put on alert and the state government has sought 25 companies of paramilitary forces in view of the rallies. Police said that "adequate" number of security personnel have been deployed in almost 13 districts of the state to maintain law and order, and claimed that the situation was "peaceful and under control". 
On Friday, a group of Jats who were opposing Saini's rally at Jind clashed with the police and blocked the Jind-Chandigarh National Highway in Jind. 
The police had to resort to mild lathi-charge to disperse the protesters and the highway was cleared for normal movement of vehicular traffic after a while. 
Jat leader Sandeep Bharti, who led the protesters, was demanding cancellation of Saini's rally. 
Bharti alleged that Saini was known for his anti-Jat rants and accused him of spreading communal hatred by making inflammatory and derogatory statements against the community.