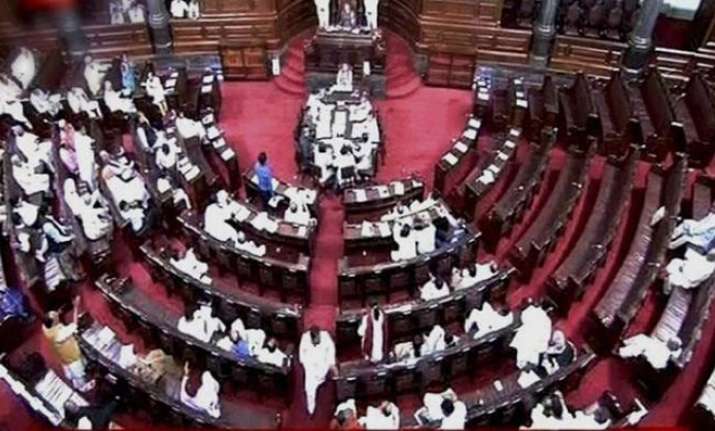 The Rajya Sabha was adjourned for the day soon after new and re-elected members took oath as MPs from various parties, including Congress and Trinamool Congress, trooped into the Well raising slogans in support of their demands. 
The Upper House has not transacted substantial business ever since it met on March 5 after a recess to carry forward the Budget session due to disruptions by different parties on matters like bank frauds, Cauvery river water, special status for Andhra Pradesh and issues related to Dalits. 
MPs belonging to the Congress, Trinamool Congress, Samajwadi Party, Bahujan Samaj Party, Telugu Desam Party and those of Tamil parties -- DMK and AIADMK, rushed into the Well as soon as 41 members took oath and Chairman M Venkaiah Naidu asked ministers to lay papers on the table of the House. 
The Congress and the BSP accused the government of being "anti-Dalit". TMC was protesting against bank frauds, while TDP members were demanding special status for Andhra Pradesh. KVP Ramachandra Rao of the Congress was also holding a placard demanding special status for Andhra Pradesh.
The two prominent Tamil parties were demanding constitution of the Cauvery Water Management Board for division of river water between Tamil Nadu and Karnataka. Amid sloganeering by protesting MPs, Naidu tried to bring order in the House. 
As they did not yield, the Chairman adjourned the House for the day. The Upper House will meet again on Wednesday at 1100 hrs.