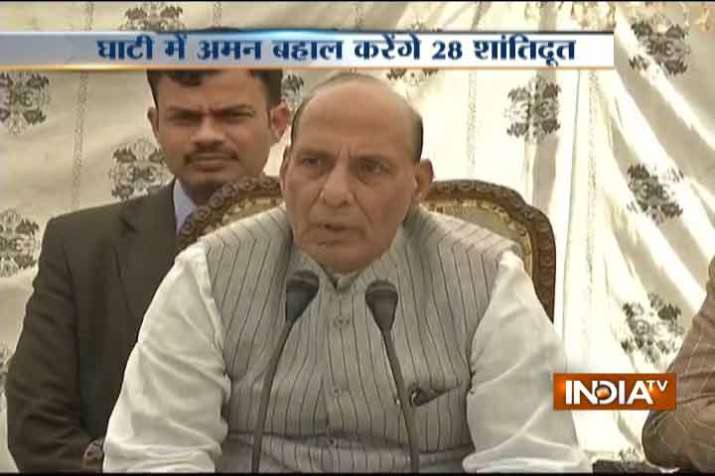 A day after the all party delegation was snubbed by Hurriyat leaders, Home minister Rajnath Singh today slammed the separatist faction and dubbed their actions as not being consistent with both 'Kashmiriyat' and 'Insaaniyat'.
Addressing a press conference in Srinagar, Rajnath said, "Some members of delegation went to meet Hurriyat leaders. We neither approved nor disapproved. The delegations members had gone to meet Hurriyat members in their individual capacity."
"Everybody wants the situation in Kashmir to improve," he said, adding, "There is no doubt that Jammu and Kashmir is, has and will be an integral part of India.
"We are willing to speak with anyone who wants piece in Kashmir and the Centre and state are working to alleviate the situation here."
On the use of pellet guns by para-military forces, Rajnath Singh said the government has given an alternative to pellet guns – PAVA shells- within a period of two months.
"Discussions with delegations overall have been positive, and I appeal to the press to bear in mind that the goings-on in Kashmir are a concern to us all, and we need to support of everyone to overcome them," he signed off.
Singh is leading the 26-member delegation on a two-day visit that the separatists have dismissed as a futile exercise.
On Sunday, a small group from the all-party delegation, which tried to meet and speak to separatists at their homes and in prisons, found out just how cold they were as much of the Valley remains under curfew.
The 26-member all-party delegation was expected to interact with a cross-section of people with a view to restore peace in the strife-hit Valley, but was notably snubbed by members of the separatist Hurriyat Conference. Initially, the delegation was proposed to comprise 29 MPs, but only 26 of them made the visit.
Meanwhile, on Sunday more than 200 people were injured in clashes between stone pelters and security forces, while normal life remained paralysed for the 58th consecutive day.