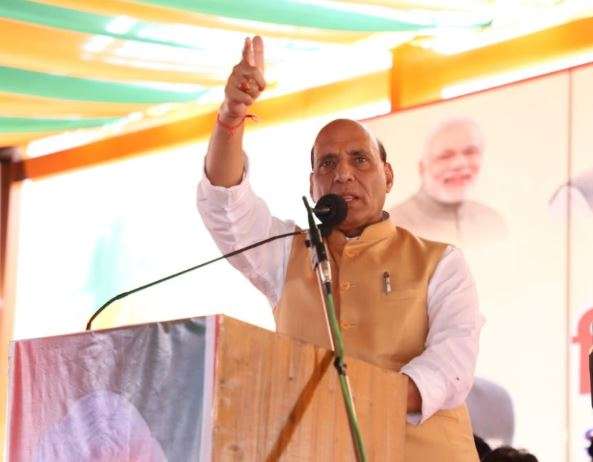 Along the highly sensitive Indo-Pak border, Home Minister Rajnath Singh will celebrate Dussehra festival with the jawans of the Border Security Force (BSF) and perform 'shastra puja' in Rajasthan's Bikaner, officials said on Sunday.
On October 19, Singh will celebrate the festival. 
Possibly this is for the first time that a home minister of the central government will conduct 'shastra puja' (worship of weapons) along India's border with Pakistan. In the past, India had fought full-scale wars with Pakistan.
Singh will also perform the 'shastra puja' at the Border Out Post (BOP) located at the forward areas.
'Shastra puja' is part of the 'Dussehra' festival which is celebrated for the victory of Lord Ram over Ravana.
Last year, the home minister had celebrated Dussehra at Joshimath in Uttarakhand along the Sino-Indian border.
Home Minister is also expected to review the situation on the border and assess the progress in various infrastructure projects.
The 3,323-km-long Indo-Pak border is highly sensitive. However, the border in Rajasthan is peaceful.
(With PTI inputs)