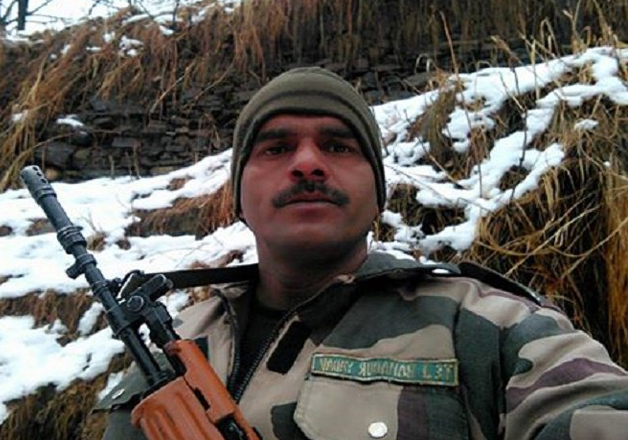 The Border Security Force today categorically denied a soldier's claim that that troops are served with bad quality food and that they sometimes even sleep hungry.
Addressing the media, IG BSF, DK Upadhyay, termed the matter as 'sensitive' and said that a 'thorough probe will be done in the whole matter'. 
"Actions will be taken accordingly".
Tej Bahadur Yadav, a BSF soldier, raked up a storm yesterday when he shared at least three videos claiming troops were served bad quality food. The 40-year-old, who belongs to the BSF's 29th battalion, even accused senior officers of diverting the provisions sent by the government for jawans guarding the border areas. 
Upadhyay informed that Yadav had "indulged in indisciplinary actions and was to be court-martialed in 2010". 
"But considering his family he wasn't dismissed," he said.
"Intentions were different probably," he said, adding that Yadav was denied promotion in past because of bad behavior. 
This was the first case when a jawan has complaint about food, the officer said. "I can agree that taste of the food might not be very great but have never received any complaint from jawans regarding the same. Agree that taste isn't good because in winters there is tinned and dehydrated food but jawans don't complain."
When specifically asked about the allegations, he replied, "An enquiry has been ordered. If any lapses found strict action will be taken."
"DIG level officers who have visited the camp in past have never received any complaint regarding allegations levelled in the video," he added.
To ensure a free and fair enquiry, Upadhyay said, "He will be shifted to a different headquarter so that no one can pressurize him and fair enquiry can be held."
Yadav is currently deployed along the Line of Control in Jammu and Lashmir and jawans there work under the operational command of the Army, which also provides for food and other logistics of the jawans.
The official further said that a "separate enquiry will also be conducted as to why he was carrying a mobile phone while on duty, which is against the disciplinary guidelines".
In the clips, Yadav had displayed almost-inedible food that is allegedly being served to him and other jawans. 
"We only get a paratha and tea as breakfast. No pickle or vegetables are served in breakfast. We slog for 11 hours and at times we have to stand throughout the duty hours," he said in one of the video that has gone viral on internet, inviting ire from public.
He further said that for lunch, 'jawans get roti and dal which only has haldi and salt'. "This is the quality of the food we get. How can a jawan do his duty?"
Yadav also urged Prime Minister Narendra Modi to look into the matter immediately and order a thorough probe.
Meanwhile, Union Home Minister Rajnath Singh has sought a report from the BSF and ordered appropriate action following Yadav's claim.
"Have seen a video regarding a BSF jawan's plight. I have asked the HS to immediately seek a report from the BSF and take appropriate action," Singh tweeted yesterday.
BSF, one of the five Central Armed Police Forces, is the primary Border guarding force of the country. The BSF has 186 battalions with a sanctioned strength of 2.5 lakh personnel including an expanding air wing, marine wing, artillery regiments, and commando units.
It currently stands as the world's largest border guarding force. BSF has been termed as the First Line of Defence of Indian Territories.