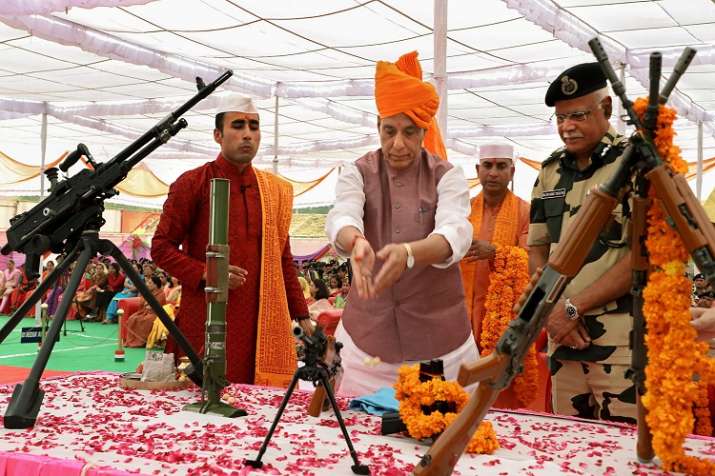 Home Minister Rajnath Singh on Friday celebrated Dussehra with BSF jawans along the Indo-Pak border and performed 'shastra puja' in this forward post, officials said. This was for the first 'shastra puja' or worship of weapons by a senior Union minister on the occasion of Vijaya Dashami along India's border with Pakistan.
The home minister had arrived at the frontier headquarters of the BSF in Rajasthan's Bikaner on Thursday evening and celebrated Dussehra festival with the jawans, an official said.
Singh, while addressing the BSF personnel, praised the multi-dimensional role of the BSF in guarding the Indo-Pak and Indo-Bangladesh borders, along with maintaining law and order in internal disturbances and tackling the Left-Wing Extremism.
The home minister also spoke about the regular firing from across the border in Jammu and Kashmir and said Pakistan, despite being a neighbour, never exercised good neighbourly behaviour and instead sponsoring terrorism.
The home minister said that recently launched 'smart fence' pilot project, which entails deploying laser-activated fences and technology-enabled barriers to plug vulnerable gaps along borders, will help the border guarding forces in maintaining peace in forward areas.
The project was launched along Indo-Pak border in Jammu and Kashmir while it will be implemented along the Indo-Bangla border in Dhubri, Assam, next month, Singh said.
On a two-day visit to the state, the home minister reviewed the situation on the border and assessed the progress in various infrastructure projects.
He also interacted with the family members of the BSF personnel and attended a feast with the jawans, another official said.
Last year, the home minister had celebrated Dussehra at Joshimath in Uttarakhand along the Sino-Indian border.