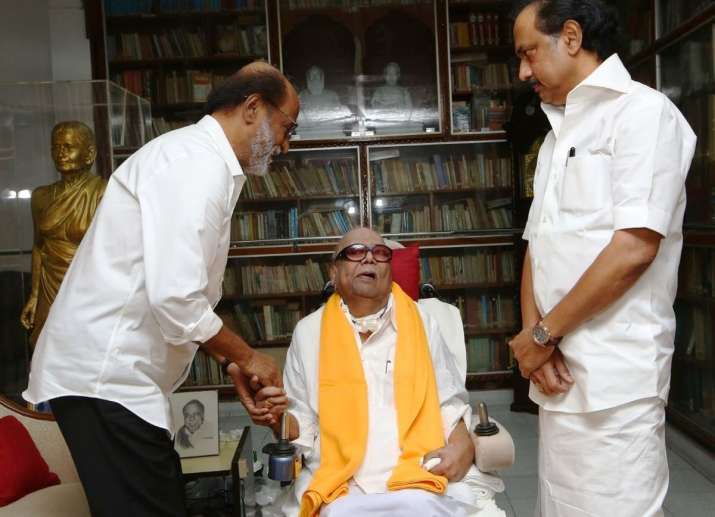 Days after announcing his entry into politics, top actor Rajinikanth tonight met DMK chief M Karunanidhi at his residence here and sought his blessings. DMK sources described it as a courtesy call. 
Clad in a white shirt and black pant, the actor extended his new year greetings and apprised the DMK president and his aides of his political plunge. 
Rajinikanth also enquired about the veteran leader's health. 
"He is senior most politician in the country. I respect him a lot. We have a very good friendship. I took his blessings as I am entering politics. I am feeling very happy after meeting him," Rajinikanth told media after meeting Karunanidhi in Chennai. 
DMK working president MK Stalin was present on the occasion, the sources said. 
Karunanidhi is the first political leader Rajinikanth is meeting after announcing his entry into politics on December 31. 
The meeting assumes significance as DMK is the main opposition party in the Tamil Nadu assembly.  Rajinikanth has said it was his desire to create a political revolution in Tamil Nadu, a "historic" state that facilitated major changes. 
"It is my desire to start from here a political revolution," he said yesterday. 
Future generations will live better if a change was facilitated now, the actor said. 
The actor has launched a mobile app, website and a Twitter account as part of efforts to mobilise cadres for his proposed party. 
His decision to enter politics comes at a time when the state is witnessing a political churning after the death of former chief minister Jayalalithaa and virtual retirement of the nonagenarian Karunanidhi. 
Since October last year, he has been inactive in politics due to ill health.