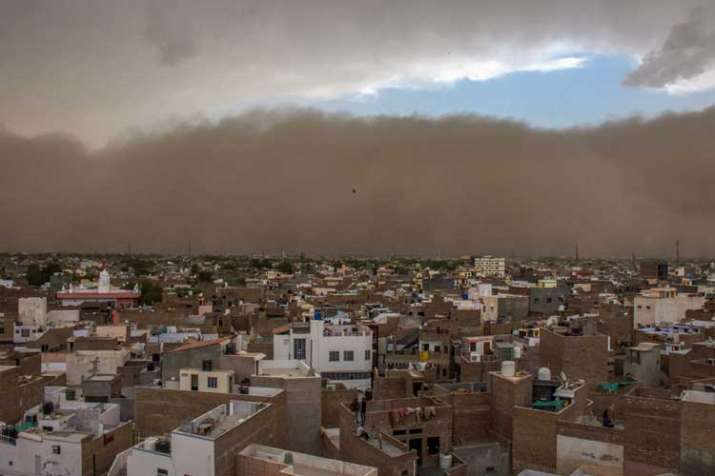 Another dust storm is likely to hit parts of Rajasthan and Uttar Pradesh due to cyclonic circulation formation in the region, the Met department predicted after 109 people were killed and nearly 200 injured after a heavy storm wreaked havoc in several parts of western and northern India.
Seventy-three people were killed in Uttar Pradesh and 91 injured, officials said. In UP, Agra district was the worst hit, accounting for atleast 43 deaths and injuries to 51 others, officials said. Besides Agra, the other storm-hit UP districts were Bijnor, Bareli, Saharanpur, Pilibhit, Firozabad, Chitrakoot, Muzaffarnagar, Rae Bareli and Unnao. 
In Rajasthan, 36 died and another 100 were injured as winds over 100 kmph hit the region around 7 pm. Bharatpur district was the worst affected with 19 killed. Nine people died in Alwar and eight in Dholpur, officials said. 
Meanwhile, ten people have been killed as heavy rains lashed Telangana and Andhra Pradesh, officials said. While five people were killed in various rain-related incidents in Telangana, an equal number of deaths were reported from Andhra Pradesh.
Delhi on the other hand may see strong surface winds during the day time towards Sunday, the IMD said.
PM Narendra Modi expressed gief over the deaths and directed officials to coordinate with states to ensure speedy relief and rehabilitation. "Saddened by the loss of lives due to dust storms in various parts of India. Condolences to the bereaved families. May the injured recover soon," the Prime Minister's Office tweeted quoting Modi.
 
Uttar Pradesh Chief Minister Yogi Adityanath was has directed officials to personally monitor relief operations, warning against any laxity while Rajasthan Chief Minister Vasundhara Raje expressed grief over the calamity and said district authorities have been directed to ensure all possible help to victims. She will visit the storm-hit areas on Friday. 
The state government said contingency funds have been released to district administrations. Family members of those dead will get Rs 4 lakh as compensation, and those injured will get between Rs 60,000 and Rs 2 lakh.