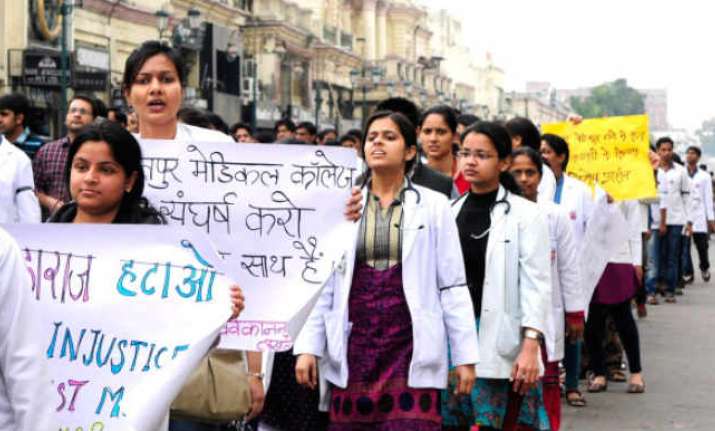 Striking government doctors in Rajasthan continued to abstain from work for the ninth consecutive day affecting healthcare services in the state. 
 
Aiming to break the deadlock, the state health department had invited striking doctors for talks today. But the agitating doctors did not turn up.
 
"A meeting can be held when there is no fear among doctors," Mahesh Sharma, an advocate representing agitating doctors said, adding he will put up matter of fact of the issue before the court. 
A special bench of the Rajasthan high court will hear the matter on Monday. 
The doctors are accusing the government of not executing the promises made to them last month and taking vindictive action against them. 
The in-service government doctors went on an indefinite strike on December 16 against the arrest of some of their fellow doctors under the Rajathan Essential Services Maintenance Act (RESMA). 
The act was invoked after the doctors threatened that they would go on strike.  As many as 86 doctors had been arrested before the high court On December 19 directed the agitating doctors to resume their duties and assured them that no doctor would be arrested. 
Sharma alleged that the government has failed to implement the demands were mutually agreed upon in the previous meeting and is bent on taking vindictive action against the doctors. 
He claimed that there will be a medical emergency in government and private hospitals tomorrow as the in-service doctors have the support of private doctors association and medical teachers association. 
Meanwhile, Rajasthan Medical Teachers Association (RMTCA) secretary Dr Dhananjay Agrawal said they will wear black armbands on arms to lodge their protest and demand that the government amicably resolve the issue.