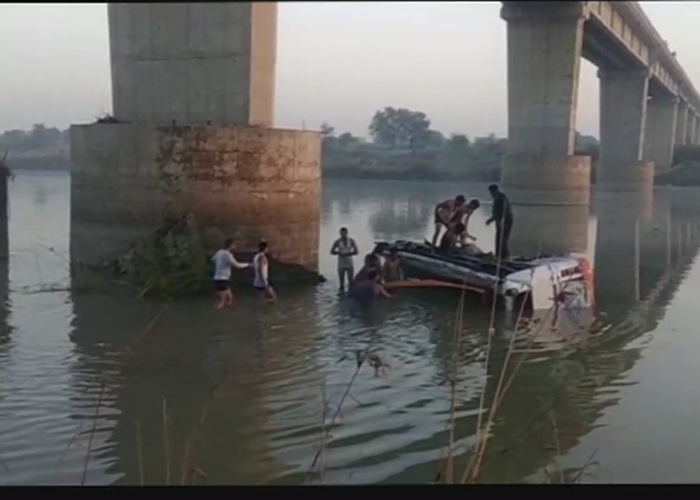 At least 32 people died and 5 others were injured after a private bus fell into Banas river from a nearly 100-foot high bridge in Rajasthan's Sawai Madhopur district, police said.
PM Narendra Modi expressed grief over the incident and said his thoughts were with the families of the deceased.
"State government is closely monitoring the situation, including rescue operations and providing all possible assistance to those affected," the Prime Minister's Office tweeted.
सवाई माधोपुर की दुर्घटना बहुत दुखद है| मेरी संवेदनाएं मृतकों के परिवारों के साथ है| राज्य सरकार से अपील है घायलों को तत्काल हर तरह की मदद पहुंचाएं| राजस्थान कांग्रेस पार्टी से मेरा आग्रह है कि बचाव और राहत कार्य में हर संभव मदद करें|

— Rahul Gandhi (@RahulGandhi) December 23, 2017
The incident took place early morning in Soorwal police station area when the bus was on its way to Lalsot from Sawai Madhopur, they added.
The driver of the bus lost control over the vehicle and it fell into the river after breaking the railing of the bridge, police said. The injured have been rushed to a nearby hospital.
Rajasthan: #Visuals from the site of accident in Dubi, Sawai Madhopur ; 12 people dead, 24 injured after a bus carrying passengers fell of a bridge into a river pic.twitter.com/7pruEkOjmc

— ANI (@ANI) December 23, 2017
Sawai Madhopur Superintendent of Police Mamman Singh said that 32 people have died in the incident. He had earlier said that five injured were rushed to hospitals and 10 bodies were handed over to their family members after post-mortem.
Rajasthan: Injured admitted to hospital after a bus carrying them fell of a bridge into a river in Sawai Madhopur's Dubi; 12 people dead in the accident pic.twitter.com/ypr4xM06Hz

— ANI (@ANI) December 23, 2017