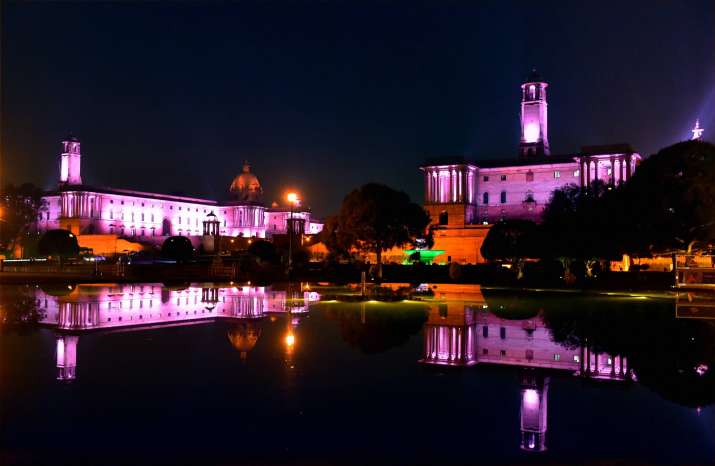 Two iconic buildings of the famous Raisina Hills -- the North and South Block -- on Wednesday got a permanent makeover with a facade of dynamic LED lighting with 16 million colour combinations. The makeover of the buildings housing the seat of India's power in Lutyens' Delhi has been done on the lines of world historic sites like the London Bridge, the Eiffel Tower in Paris and the Sydney Opera House.
The new dynamic facade lighting of the two famed buildings was switched on by Mahipal Singh, the senior most employee of the Home Ministry, in the presence of Prime Minister Narendra Modi and his cabinet colleagues, including Home Minister Rajnath Singh.
Mahipal Singh, a Multi Tasking Staff (MTS) with the Union Home Ministry, has served the government for 42 years.
The lights have been installed by the Ministry of Housing and Urban Affairs and spread over an area of 21,450 square meters.
The decorative lighting changes colour every few seconds and has 16 million colour combinations, displaying a wide range of patterns and themes. Philips Lighting has created the dynamic facade.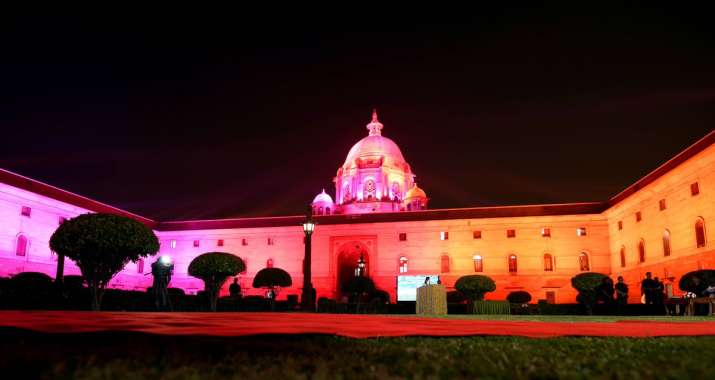 While the lightings on the North and South Block were inaugurated on Wednesday, the Rashtrapati  Bhavan lights would start functioning within the next three months. 
The Central Vista used to be lit up on eight select days in a year that lasted for a few hours on the North and South Block buildings.
But the new lighting will be on from 7 pm to 5 am every night with full capacity prime time lighting from 8 pm to 9 pm.
"(The) dynamic LED lighting will illuminate these buildings using a palette of 16 million colours that will accentuate the rich blend of traditional Indian and British architecture," Sumit Joshi, Vice Chairman, Philips Lighting, said in a statement. "The new dynamic lighting system is also energy efficient and will make these buildings a visual treat."
"With inherent dimming facility, the electrical load will be 25 per cent during 7-7.30 p.m. and 10 p.m. to 5 a.m. while the load will be 50 per cent during the remainder of the night," according to an official statement.
The statement said the entire network of new dynamic lighting using the state of the art RGB LED technology with 40 km of unified power and data cabling has central computerized control with automated selection of colour combinations, selection of timing, dimming and switching on and off facility through an Ethernet based controller.
(With IANS inputs)