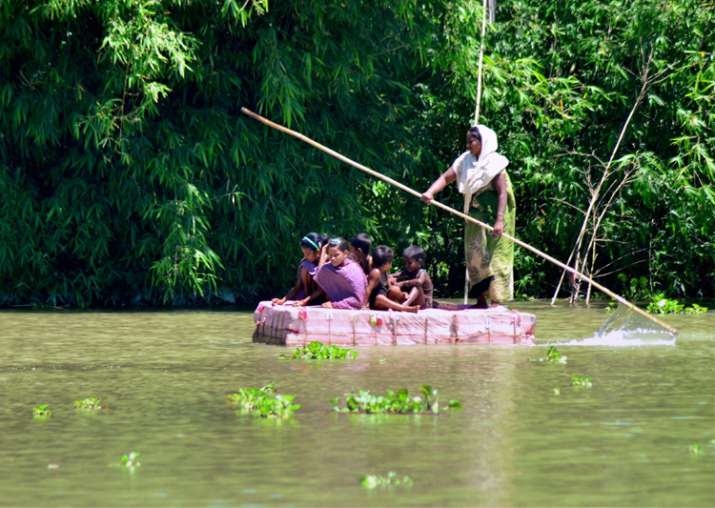 The flood situation in Assam remained grim today where three fresh deaths took the toll to 52 while a family in Jammu and Kashmir lost three members in a rain-related incident as most parts of the country witnessed rainfall.
In Assam, nearly 15 lakh people in 25 districts are still affected by the deluge which has also inundated more than half of the Kaziranga National Park. The total number of people who lost their lives in flood-related incidents in the state this year has gone up to 52, eight of them in Guwahati. Kaziranga National Park's 62 per cent area is submerged leading to the death of some animals while some others moved to nearby highlands. Around 2,240 villages are under water and more than 79,000 hectares of crop area inundated.
Brahmaputra river water was flowing above the danger mark at five places -- Guwahati, Nimatighat in Jorhat, Tezpur in Sonitpur, Goalpara and Dhubri towns. 
It was a sunny day with cloudy patches in the national capital which witnessed traces of rains in some parts of the city during the evening. The maximum temperature was recorded at 36.4 degrees Celsius, a notch above the season's average while the minimum temperature settled at 28.4 degrees. Humidity levels oscillated between 82 and 57 per cent.
The Jammu-Srinagar National Highway, which was closed for traffic yesterday due to landslides triggered by heavy rains in Ramban and Udhampur districts of Jammu and Kashmir, has been reopened. In Doda district, three members of a family were killed after their house collapsed following heavy rains early in the morning.
Heavy rains occurred in parts of Rajasthan since yesterday even as maximum temperatures at most places were recorded between 32 and 36 degrees Celsius. Ghatol in Banswara district and Pipalkhunt in Pratapgarh gauged 24 cm rainfall each followed by Dug in Jhalawar 23cm, Mount Abu 19 cm and Sabla in Dungarpur district 13 cm. 
Maximum temperatures hovered close to the normal limits at most places of Punjab and Haryana with Chandigarh, the common capital of both the states, recording a high of 34.1 degrees Celsius, a notch below normal. In Punjab, Amritsar registered a high of 36.3 degrees Celsius, while both Ludhiana and Patiala recorded a maximum of 34.2 degrees Celsius.
Karnal in Haryana recorded a maximum temperature of 33 degrees Celsius while Ambala registered a high of 34 degrees Celsius.
Light rains occurred at some places in Himachal Pradesh, while dry weather conditions prevailed in the rest of the state. The MeT office, however, said heavy rains are likely in mid and lower hills on July 16 and 17. Banjar gauged 13 mm of rains, Theog 8 mm, Saloni 7 mm, Baijnath 5 mm, Dharamshala 4 mm and Bharmaur 3 mm. There was no significant change in maximum and minimum temperatures. Kangra was the hottest place in the state at 33.4 degrees Celsius.
Light to moderate rainfall occurred in parts of Bihar Bhagalpur, which received 0.8 mm rain recorded a maximum temperature of 35.5 degrees Celsius, while Gaya received 18.6 mm rain and registered a high of 34.5 degrees Celsius. Patna and Bhagalpur gauged 3.4 mm and 3.1 mm of rainfall respectively since yesterday. 
The southwest monsoon has covered the whole of Maharashtra bringing good rains and relief to farmers.In Nashik, incessant rains lashed the city and other parts of the district after a dry spell, leading to water logging in low-lying areas. The water level of the Godavari river has risen following heavy downpour since last night.
Goa is expected to witness heavy rainfall accompanied with strong winds in the next two days, the India Meteorological Department has said. Fishermen are advised not to venture into the sea, an IMD official said. Parts of gangetic West Bengal, Jharkhand, Chhattisgarh, Madhya Pradesh, Gujarat, Karnataka, Tamil Nadu and Kerala also received rains.