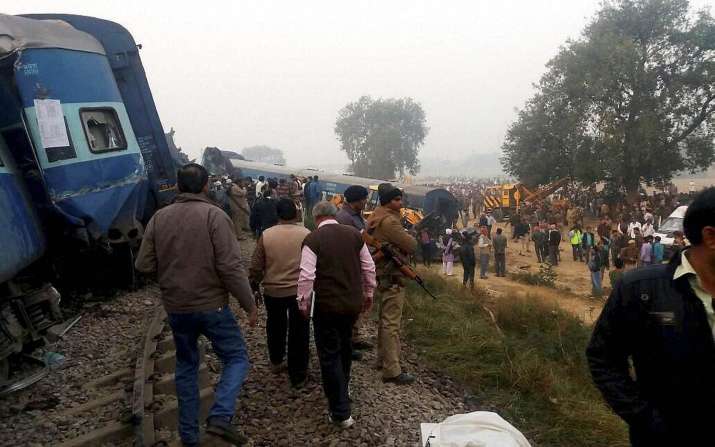 The train tragedy involving Indore-Patna Express that left over 100 dead could have been caused due to rail fracture, according to sources in the railways.
While the exact cause of the Kanpur accident will be ascertained after the inquiry report, prima facie it indicates towards rail fracture, the sources said.
Casualties also increased due to absence of modern Linke Holfmann Bush (LHB) coaches in the train, the sources added.
 Had there been stainless steel LHB coaches, then the damage could have been less as these coaches have more in-built safety features which can absorb shock and impact of derailment more effectively and as a result do not topple, they said.
The accident comes at a time when railways are undertaking a massive brainstorming exercise to generate new innovative ideas to improve rail functioning and making the train journey a pleasant experience.
Fourteen coaches of Indore-Patna Express derailed near Pukhrayan in Kanpur claiming over 100 lives.
This is the second derailment in two days as the four coaches of the Bhatinda-Jodhpur passenger train derailed yesterday at about 2 AM leaving a dozen passengers injured in Rajasthans Sriganganagar district.
Railway Minister Suresh Prabhu, who has rushed to the site to monitor the situation at ground zero, ordered an inquiry into the accident which will be undertaken by Commissioner Railway Safety (Northern region).
"Inquiry team will start investigation into cause of accident immediately. All necessary assistance provided to the affected, we are taking care," Prabhu has tweeted.
Railways have videographed the entire Kanpur-Jhansi track to ascertain the reasons for the derailment. General Manager of North-Central Railway Arun Saxena told reporters here that investigation will be conducted by the Commissioner of Railway Safety. 
Poor track maintenance including lack of proper fittings and ballast on the railway lines causes fracture on the tracks.
While a simple crack on track may not be of much concern, a severe fracture causing separation of the track could lead to derailment of trains. 
Asked if someone could have tampered with the tracks, he said the Commissioner of Railway Safety, who will arrive here from Kolkata tomorrow, would be able to provide an answer to it. 
"Anyone with further evidence or statements can approach the Commissioner to record his statement," he said. 
"We did videography of the whole track for scrutiny," he added. 
The S1 and S2 coaches of the Indore-Patna Express bore the major brunt of the damage ailment today as they smashed into each other. 
The whereabouts of the ticket collectors and staff from the two coaches is also not known, he said. 
Two other coaches, S3 and S4 also went off track but were not damaged to a great extent. The third AC BE also suffered damage. 
Saxena said it would take 36 hours for the Kanpur-Jhansi track to be restored, with 300 engineers and technical staff deployed. 
(With PTI inputs)