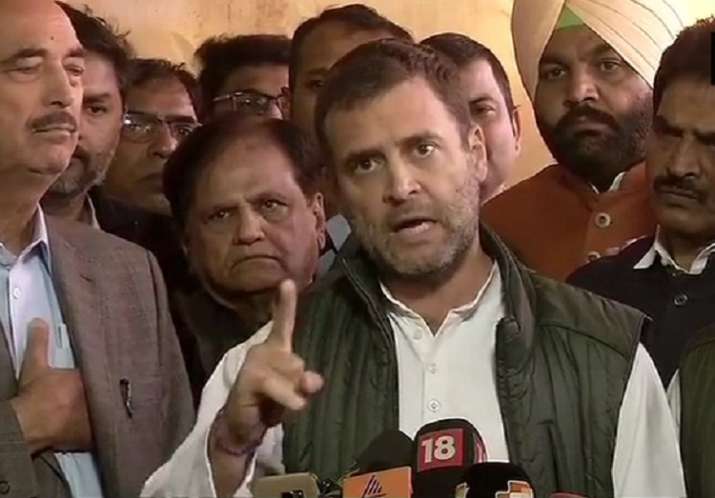 Upping the ante against the Bharatiya Janata Party (BJP)-led NDA government at the Centre and Prime Minister Narendra Modi, Congress president Rahul Gandhi on Tuesday said he won't let the PM sleep until he fulfills his promise of waiving off loans of farmers of the country. Speaking to reporters outside Parliament, Gandhi also cornered the Modi govt over the issue of Rafale fighter jet deal with France. 
"We will not let PM Modi sleep till he waives off loans of farmers, all opposition parties will unitedly demand this. Till now PM has not waived off a single rupee of farmers," Rahul Gandhi said. 
Responding to a question about government's affidavit in the Supreme Court admitting typos in documents concerning the Rafale deal, Rahul Gandhi said," JPC, Rafale, farm loan waivers, demonetisation, typo errors will soon emerge in everything. People have been lied to, farmers and small traders are being looted. I am saying it again demonetisation is the biggest scam in the world."
In a stinging attack on what he described as crony capitalism, Gandhi said the government has turned a blind eye to the loans given to 15 top industrialists of the country, including Anil Ambani, but has made no effort to alleviate the woes of the farmers in the last four years.
Congress keeps promise in MP, Chhattisgarh
Hours after taking charge on Monday, Madhya Pradesh Chief Minister Kamal Nath cleared a proposal for waiving farm loans up to Rs 2 lakh, fulfilling a promise made by the Congress ahead of the Assembly polls that is widely believed to have tilted the scales its favour.
Rahul Gandhi had promised a farm loan waiver within 10 days of his party coming to power in the state, where it ended the 15-year-long BJP rule.
In Chhattisgarh Chief Minister Bhupesh Baghel also announced that his government will waive short-term agricultural loans of farmers, fulfilling a promise made by the Congress ahead of the just concluded state assembly polls.
Short-term agriculture loans to the tune of over  Rs 6,100 crore of over 16.65 lakh farmers drawn from cooperative banks and Chhattisgarh Gramin Banks, as on November 30, 2018, will be completely waived, he said.
Parliament witnesses uproarious scenes over Rafale, loan waiver
Earlier, both Rajya Sabha and Lok Sabha witnessed an uproar over Rafale deal, farmers loan waiver and other issues forcing proceedings to be adjourned for the day.
The Congress raised the Rafale issue and some party members displayed placards demanding a Joint Parliamentary Committee (JPC) probe into the fighter jet deal.
Many members from the BJP shouted slogans against the Congress and demanded an apology from Congress President Rahul Gandhi on the Rafale issue. Some members stood in the aisle while others were at their seats.
WATCH: Won't let PM Modi sleep till he waives off farmers' loan, says Rahul Gandhi