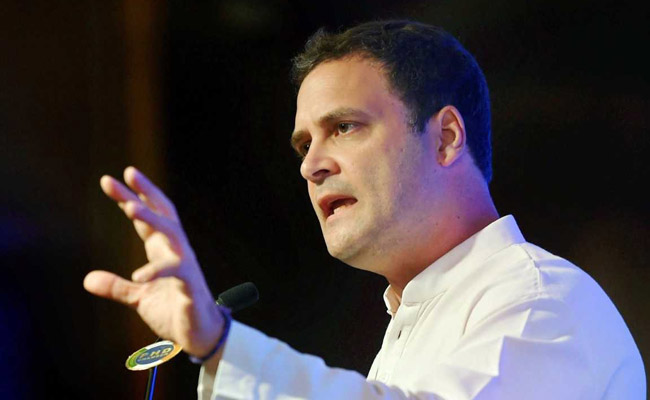 Predicting that Prime Minister Narendra Modi will not utter a word on Doklam during his informal summit with Chinese President Xi Jinping, Congress president Rahul Gandhi on Friday wondered  where his '56 inch chest' has gone. 
"I have heard that he (Modi) is visiting China. You just see, take it in writing from me. China's army is sitting in Doklam and he will not utter a word on Doklam in China, you just watch," Rahul Gandhi said while addressing a public rally at Bantwal in Karnataka.
"He (Modi) won't utter a word, this is 56 inch chest.  Only hollow words, false promises," he added.
Rahul Gandhi reminded the audience how PM Modi had hosted Xi Jinping  in his home state Gujarat and the Chinese troops made an incursion into Indian territory. 
 "In Gujarat, on the banks of a river, Narendra Modi ji"sits on a swing with the Chinese president. Chinese president goes"back home and puts Chinese army in Doklam. I don't know where his (Modi's) 56-inch chest had gone, Narendra Modi ji did not utter a word," Rahul said.
  
Chinese soldiers had intruded into Indian territory in Chumar area of Ladakh in September 2014 during Xi's India visit. 
Prime Minister Narendra Modi on Friday met Chinese president Xi Jinping as part of a two-day "heart-to-heart" summit in Wuhan. 
The prime minister held one-to-one talks with the Chinese president and discussed global, regional and bilateral issues. However, no agreement would be signed during the informal talks, according to officials.