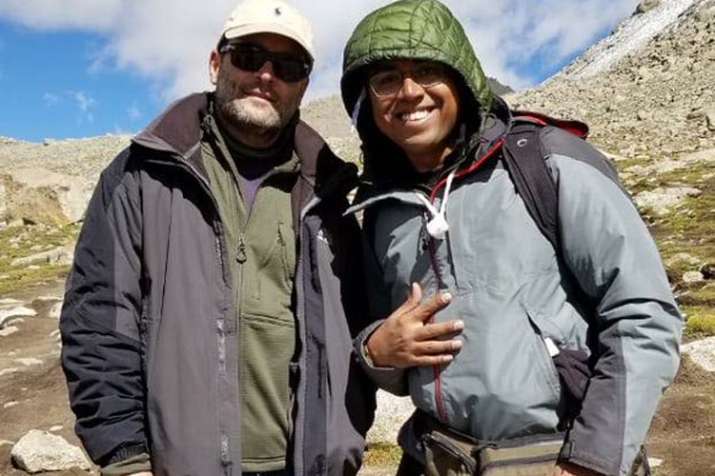 Congress president Rahul Gandhi's Kailash Mansarovar visit is witnessing a new controversy almost every day. First, it was his reported non-veg meal at a restaurant in Kathmandu and now it is photos from the pilgrimage.
As soon as a few photos of Rahul Gandhi from his Kailash Mansarovar Yatra emerged on Friday, a row  eruopted over the authencity of the pictures. 
Minister of State for Micro, Small and Medium Enterprises in the Modi government, Giriraj Singh, raised questions over one of the photos and claimed that it has been photoshopped.
"Ye to photoshop hai...chhadi ki parchai gayab hai (This appears to be photoshopped...the shadow of the stick is missing)," Giriraj Singh tweeted alongwith the said photo of Rahul Gandhi.
ये तो फ़ोटोशॉप है ...छड़ी की परछाईं ग़ायब है । pic.twitter.com/me3ke7m17x

— Shandilya Giriraj Singh (@girirajsinghbjp) September 7, 2018
Congress President Rahul Gandhi during #KailashMansarovarYatra with other pilgrims pic.twitter.com/hMLqL6KzOw

— ANI (@ANI) September 7, 2018
Responding to Minister Giriraj Singh's 'photoshop'  charge, the Congress has hit back sharing another photo of Rahul Gandhi along with a record of number of footsteps and total kilometers he has covered so far during his ongoing Kailash Masarovar Yatra.
Leaving all the haters behind, Congress President @RahulGandhi sets the pace during his #KailashYatra. Can you keep up? pic.twitter.com/aphQ8B6CAn

— Congress (@INCIndia) September 7, 2018
Rahul Gandhi had earlier shared pictures of Mansarovar lake on Twitter while commenting "there is no hatred here".
"A man goes to Kailash when it calls him. I am so happy to have this opportunity and to be able to share what I see on this beautiful journey with all of you," he had said. 
WATCH VIDEO: