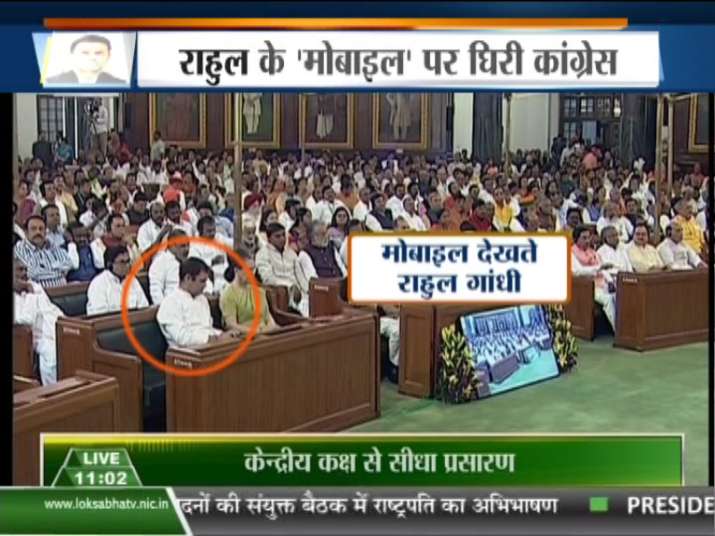 Rahul Gandhi does it once again. He has walked into a controversy, this time around in the Parliament. 
As President Ram Nath Kovind was addressing a joint sitting of both houses of Parliament on hope, determination and will for a new and better India, there was Rahul Gandhi busy with his phone. 
Soon, the video went viral and caught the attention of netizens. 
In the video, Gandhi can be seen glued to his phone while President Kovind was still addressing. Sonia Gandhi, who was sitting beside him, had her attention on the President's address. 
WATCH FULL VIDEO: Rahul Gandhi busy with his mobile phone during President Kovind's address in Parliament 
Here's how netizens reacting:
President was addressing the house and Rahul Gandhi was busy with his Phone.

Taaliyaaan.... Sorry, Gaaliyaaan.🤬🤬🤬

— Piyush Shahi (@Piyushkshahi) June 20, 2019
Immatured cong president Rahul again failed to istablish him as serious leader by his act in lokshabha during the presidential speach. He was busy in mobile phone and talking with his mother in posture like seating in his drawing room.

— Arvind Kumar Singh (@ArvindK23345961) June 20, 2019
@republic :Our Rahul pappu is very busy with his phone in Central Parliament Hall while President's addressing pic.twitter.com/McYodDWGqg

— K.T. ACHARYULU. VIZAG.Sevak (@TVIZAG) June 20, 2019
when the joint sitting of parliament was being addressed by the honourable president,
at that time Rahul was playing with his Mobile phone.
really I remembered my class room when a few duffer and turent boys were busy like Rahul in wasting time and energy.

— Dr LP Singh (@lp8650242094) June 20, 2019