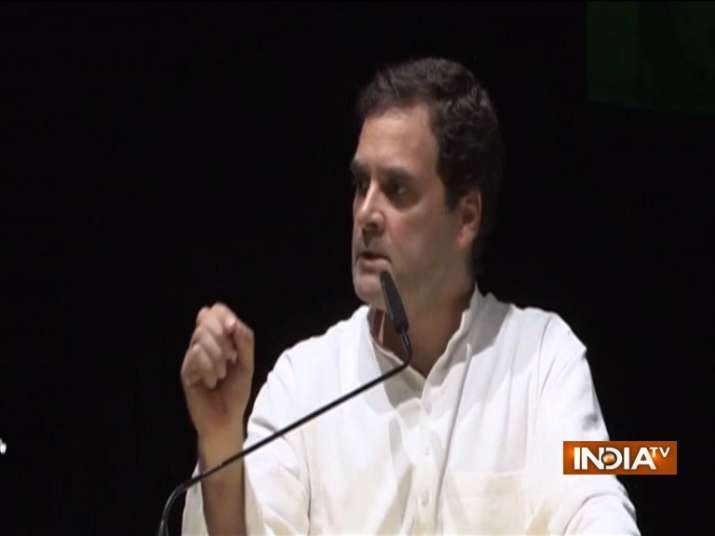 Continuing his tirade against the Bharatiya Janata Party (BJP) during his ongoing tour of Europe, Congress president Rahul Gandhi has once again accused the ruling party and the Rashtriya Swayamsevak Sangh (RSS) of trying to break India by creating a rift in the society. 
Addressing the Indian Overseas Congress in Berlin, Germany, Rahul Gandhi said both BJP and RSS are spreading hatred in India while asserting that his party would not let that to happen.
"BJP, RSS people are trying to divide India by spreading hatred among people but we won't let that happen. Our work is to keep India united...we have done that in the past and we will continue to do so," Rahul Gandhi said.
"Long speeches are made, but farmers are committing suicide, people are jobless...there's an attempt to divide the society. But we want out India to succeed," he added.
Cornering the Modi government over the issue of employment, the top Congress leader said that while the Chinese government provides jobs to 50 thousand people in 24 hours, in India, only 450 people get employment in the same time period.
Earlier, Rahul Gandhi's speech to the Indian Overseas Congress in Berlin could not be aired 'live' due to a technical glitch, the Congress said.
Gandhi's address was to be aired via a YouTube link, starting 9:30 pm IST, which was later rescheduled to start from 10:30 pm IST.
The address, however, could not be aired 'live' and the Congress party cited a technical glitch as the reason for it.
Rahul Gandhi, who is on a five-day tour to Germany and the UK, has been consistently targeting the Modi government from foreign soil. 
Rahul Gandhi's speech at the Bucerius Summer School in Hamburg in Germany on Wednesday had triggered a huge uproar with the BJP demanding an explanation.
"Rahul Gandhi does not leave any moment to insult India. We forgive you usually, but what you spoke yesterday can have dangerous implications, so we want you to explain this time," BJP spokesperson Sambit Patra said.
The Congress president had said the BJP government has excluded tribals, Dalits and minorities from the development narrative and "this could be a dangerous thing". Citing the example of Islamic State (ISIS), he said that exclusion of a large number of people from the development process could lead to the creation of insurgent groups anywhere in the world.
WATCH: Rahul Gandhi targets BJP, RSS in Berlin