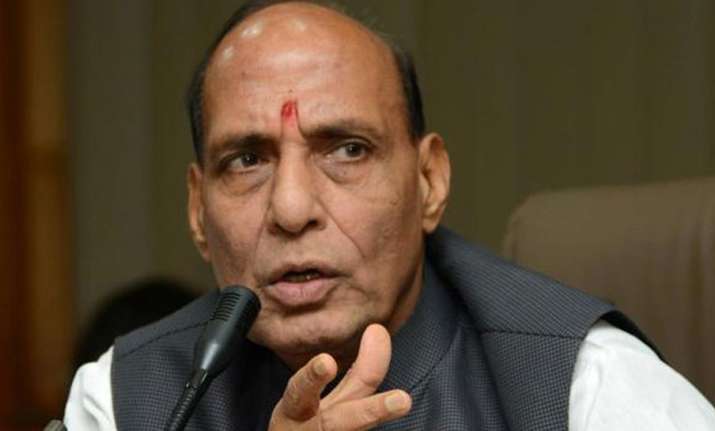 Union Home Minister Rajnath Singh on Saturday asked Congress president Rahul Gandhi not to make allegations against the government without any proof.
Referring to Rahul Gandhi's allegations based on former French President Francois Hollande's statement to a magazine, Rajnath Singh said that the verification of the French media report will reveal the truth.
"The government has issued a statement on the issue. Let the verification of the report take place. It will clear the situation, it will reveal the truth," Singh told media persons.
A French media report quoted Hollande as saying that the Indian government proposed Anil Ambani-led Reliance Defence as the partner for Dassault Aviation in the Rs 58,000 crore Rafale jet fighter deal and France did not have a choice.
The home minister, who was here to attend a meeting of the cooperative societies sector, went on to advise Gandhi that he should not make allegations without proof.
"One should think four times before levelling any baseless allegation. One should not make allegations without proof," Singh said to a question on what he would like to tell Gandhi who has been dragging the name of Prime Minister Narendra Modi in the deal.
Gandhi had dragged Modi into the imbroglio by alleging that the prime minister was involved in the Rafale "scam".
Reacting to Hollande's reported remark, which is at variance with the Indian government's position on the Rafale deal, a Defence Ministry spokesman had Friday said, "The report referring to former French President Hollande's statement that government of India insisted upon a particular firm as offset partner for Dassault Aviation in Rafale is being verified."
Earlier addressing members of 11 cooperative societies at a meeting here, Singh asked them to enter the housing sector to fulfil the prime minister's dream of housing for all by 2022.
"Our prime minister has a dream that everyone in the country should have a house and his dream can be fulfilled easily if the cooperative sector comes forward (to take part) in the housing sector," he said.
"People can get affordable houses if the cooperative sector enters the housing sector" the home minister said.
Singh told the gathering that the cooperative sector is active in Gujarat and Maharashtra and such activity is required in other states as well.
He claimed that the rate of interest on agriculture loans were reduced for the first time when Atal Bihari Vajpayee was prime minister, and he Union agriculture minister.
"Now I am glad to know that cooperative banks here are giving agriculture loans on zero per cent interest," he said.
"India's prosperity depends on that of the farmers. If the farmer of the country is prosperous, no one can stop India from becoming prosperous," he said.
(With PTI inputs)