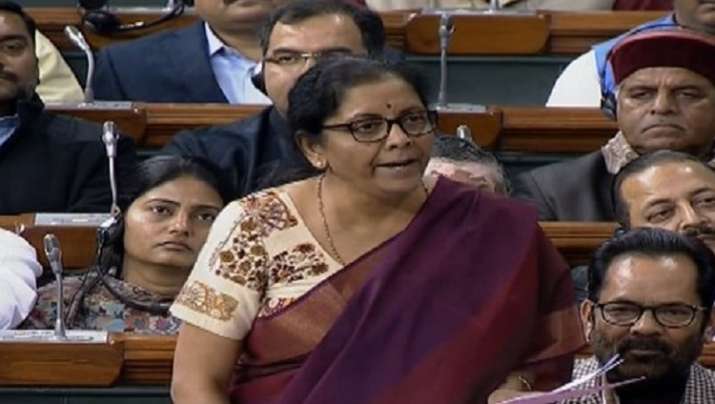 Speaking during a debate in Lok Sabha over Rafale fighter jet deal, Defence Minister Nirmala Sitharaman on Friday came down hard on the Congress while accusing the party of being involved in 'defence dealings'. In a veiled reference to Robert Vadra, Sitharaman responded to Rahul Gandhi's 'AA' jibe, saying, "Congress did not intend buying the jets. For every 'AA' there is a 'Q' and 'RV'.
"They did not intend to buy the aircraft till something else was done. Delivery of first Rafale will happen in 2019, last aircraft of 36 jets will be delivered in 2022," Sitharaman said. 
"You are misleading country by saying NDA govt reduced 126 Rafale jets to 36. Cong was supposed to buy 18 fly-away, the NDA raised it to 36," she said.
Rafale debate in Lok Sabha: Highlights
# Govt has no role in selecting offset partner. We inherited offset policy from UPA. Unparliamentary language was used against me. No one has the right to call the PM a 'thief': Nirmala Sitharaman 
#I don't have a 'khandan' to boast on. PM also comes from a poor background. He has come here from hard work. I have my honour intact. PM has his honour intact. We have all come from normal backgrounds: Nirmala Sitharaman
# Have you (Rahul Gandhi) apologised after having winked an eye at PM, after hugging the PM? This is not the way a House should run, says Nirmala Sitharaman
# In his annual report, Anil Ambani wrote about largest offset contract but you did not mention his name. You did not explain who suggested his name, how he got the contract snatched away from HAL: Rahul Gandhi
# Price is not part of the secrecy pact. My question is Anil Ambani was brought in for the contract. Who was the one to decide on Anil Ambani?​ asks Rahul Gandhi 
# I am not accusing former Defence Minister Manohar Parrikar, I am accusing PM Modi: Rahul Gandhi
#CAG is conducting performance audit of capital acquisition of air systems including the 36 Rafale. Complete draft audit report has been received in Ministry of Defence in Dec 2018. Response is under preparation, says Nirmala Sitharaman
# Defence Ministry has run without dalals (middlemen) for the last five years under Modiji. Congress is worried how Modi govt completed 5 years without corruption, says Nirmala Sitharaman
# Bofors brought Congress govt down, Rafale will bring us back: Sitharaman 
WATCH: Nirmala Sitharaman responds to Rahul Gandhi's charges over Rafale in Lok Sabha
"After hearing matter in detail, we find no reason for intervention on the issue of the purchase 36 aircraft. Perception of individuals cannot be basis of an inquiry," says Nirmala Sitharaman reading out Supreme Court's Rafale judgement. 
# A Congress spokesperson had said that Congress will not discuss India's defence deals with a foreign head of state, this discussion the Govt has to do with France and not us. Rahul Gandhi on 20 July in Parliament said, "I asked the French Pres about this secrecy pact but he denied its existence. He also told me that he has no issues in making the cost public." Who is truthful? One of them is misleading the country. I want proof of this, says Nirmala Sitharaman
# The decision to purchase 36 jets was taken in consultation with Air Force. The Congress is growing nervous after Christian Michel's extradition to India, says Sitharaman.
# If they really wanted to do something for HAL, they would have invested in it, but did nothing. They are just shedding crocodile tears over HAL. There's a unit of HAL in Amethi, have you ever worried to visit?  Nirmala Sitharaman
# There is a difference between 'defence dealings and dealing in defence'. We don't do defence dealings. We deal in defence with national security as a priority. All 36 fighter jets will come to India by 2022, says Nirmala Sitharaman
# The Congress failed to bring even a single aircraft during the UPA's tenure. The first jet will be in India in September 2019: Nirmala Sitharaman
# China and Pakistan are building a bigger fleet. The UPA government wanted only 18 flyaway fighter jets. UPA created a deadlock, says Sitharaman
# We have had wars in northern and western frontiers. Timely purchase equipment should be the priority, says Defence Minister Nirmala Sitharaman
# Senior members of the Opposition don't want to hear my answers. It is very disheartening. This country needs to know that defence purchases are national security related and very important, whether they are in power or we are, says Nirmala Sitharaman
Earlier,  the Congress accused the BJP-led government of lying before the Supreme Court by citing a "non-existent" CAG report on Rafale deal and demanded that Prime Minister Narendra Modi reply to the debate in Lok Sabha on the issue.
Speaking during the short-duration discussion on Rafale, Congress leader Mallikarjun Kharge accused Modi of giving offset contract to his "favourite man" and reiterated the demand for a probe by a Joint Parliamentary Committee.
"The Rafale deal is a Rs 1.30 lakh crore scam. Modi takes 'AA' along in his flight.... There should be a JPC probe since it is a very big scam. It has to be probed in the court of Parliament," Kharge said in Lok Sabha.
Meanwhile, Congress President Rahul Gandhi said there will be a criminal investigation into the Rafale deal if Congress comes to power in the 2019 elections, stating that Prime Minister Narendra Modi is being accused of wrongdoings in the deal but is running away from the questions posed to him.
Talking to reporters in the Parliament House complex, he said that Defence Minister Nirmala Sitharaman should answer the specific questions posed by him to Modi when she replies to the debate on the Rafale deal. 
He said Lok Sabha on Wednesday witnessed a discussion on the deal that "PM has personally signed."
"You witnessed that the government refused to answer fundamental questions. Arun Jaitley did not answer the fundamental questions. The Prime Minister, who is being accused in the matter, chose to run away from the House, did not put his foot in the Lok Sabha," Rahul Gandhi said.