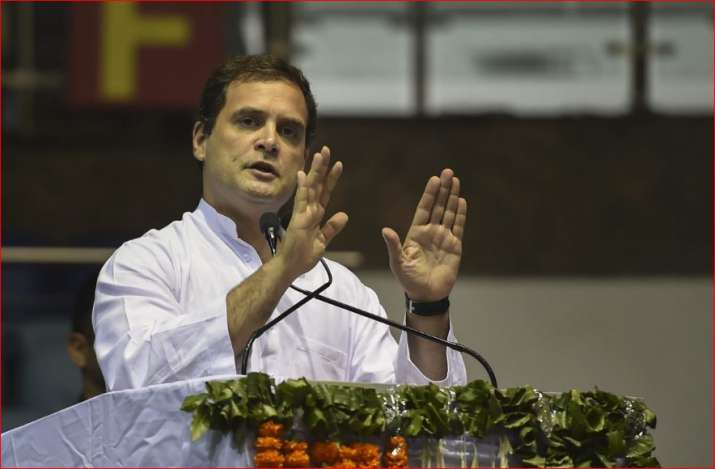 Congress President Rahul Gandhi has issued a five-point agenda to his party leaders and workers to target the Modi Government on the alleged scam in the Rafale deal. 
According to sources, the Congress chief has decided to remain agressive in his battle against the government on the matter and has made a detailed plan to attack PM Narendra Modi with a nationwide campaign. He is believed to have issued orders to his party cadre to take the message of alleged corruption in the fighter jet purchase deal to the public across the nation. 
"Rafale (deal) is a major scam, which is clear like a mirror. The prime minister and the defence minister have no answers to the questions raised by Rahul Gandhi. We will take this matter to block-level," Congress leader RPN Singh told India TV. 
The programme to take the fight jet deal to local-level is divided in five points: 
1) From August 25 to September 6, Congress will conduct press conferences across the nation 
2) All senior party leaders will interact with media in major cities and state party offices.
3) Between September 7-15, protest marches to be taken out at district-level.
4)  From September 16 to 30, state-level protests will be conducted. 
5) In the end, the campaign to end with a major press conference in New Delhi by party chief Rahul Gandhi
The directions to the party cadre comes despite a letter by Anil Ambani, addressed to Rahul Gandhi, wherein the business tycoon explained the Congress chief that he was being allegedly misled, misinformed and misguided by vested malicious interests on the matter. In his letter dated August 20, the Reliance Group chairman claimed that there was no bases for any corruption as the Reliance subsidiary will not manufacture any part of the 36 Rafale jets being procured from the French company.