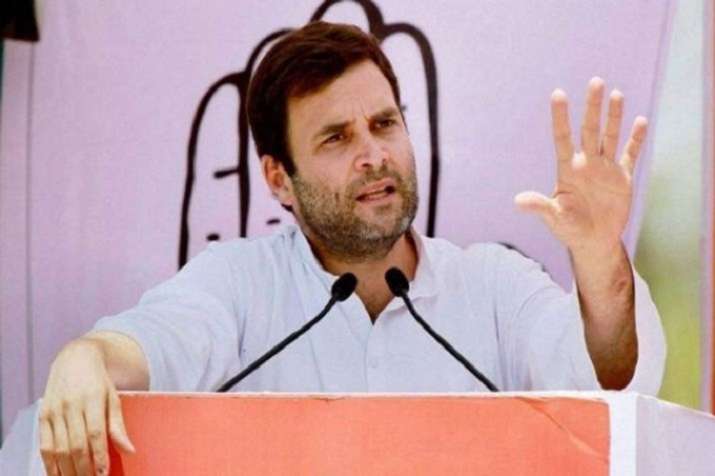 Congress President Rahul Gandhi on Thursday attacked Prime Minister Narendra Modi over Rafale deal and said French President Emmanuel Macron had told him that the price of the fighter jet involves money of the tax payers and thus its price can be revealed.
The Congress president addressed the Saanjhi Virasat Bachao Sammelan in Delhi and said opposition leaders had come together on a common platform as their vision and ideology assimilated all sections, while the BJP worked for the benefits of a few industrialists.
Gandhi targeted Prime Minister Narendra Modi over Rafale deal and said the prime minister could not respond to the allegations levelled on him during the no-confidence motion debate in Parliament last month.
He further alleged that the fighter jet, whose price the UPA government had negotiated at Rs 526 crore, had been bought by the Modi government for Rs 1,500 crore each.
Gandhi said Defence Minister Nirmala Sitharaman had said that the price of Rafale fighter jets cannot be revealed due to a secrecy pact with the French government and then referred to his meeting with Macron.
"I asked the French President if the price of aircraft comes under secret pact. He said 'no, there is nothing like it. It is taxpayers' money, how it can be a secret. If the Indian government wants to tell, it can.' I told this to the Prime Minister (during the debate on no-confidence motion) and he did not speak a word. He got angry and gave a long speech and discussed other issues. The chowkidaar did not speak about Rafale," the Congress leader said.
During the no-confidence motion in the Parliament, Rahul Gandhi had said that the French president had clearly conveyed to him that there was no problem in sharing details relating to the Rafale.
France however, had later issued a statement saying that a security agreement of 2008 legally binds the two countries to protect the classified information relating to operational capabilities of defence equipment.